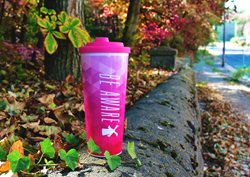 Thanks to our generous communities, Dutch Bros was able to donate over $224,000 to Breast Cancer Research.
GRANTS PASS, Ore. (PRWEB) October 31, 2015
For the second year Dutch Bros Coffee has sold "Be Aware" travel mugs to raise money for the fight against Breast Cancer. This year raised $209,400 for OHSU's Knight Cancer Institute and $15,120 for Albie Aware Foundation.
All 251 Dutch Bros Coffee locations in seven states sold the "Be Aware" mug in honor of Breast Cancer Awareness month. For every mug sold, Dutch Bros Coffee donated $5.
"It is amazing what Knight Cancer Challenge has done to move the bar forward in cancer research. We are so grateful for the opportunity to support research that may save lives," said Travis Boersma, Co-founder of Dutch Bros Coffee.
The $1 billion Knight Cancer Challenge was launched in 2013 after Nike Co-founder Phil Knight and his wife, Penny, pledged $500 million for cancer research if OHSU raised an equal amount by February 2016. The $1 billion investment will allow the Knight Cancer Institute to hire top scientists and their teams and to collaborate on improving methods to identify cancer at its earliest and most curable stage, and to move the most promising new detection methods and treatments from the laboratory to clinical trials as quickly as possible.
"We are excited to participate in supporting their work," said Boersma. "We can't wait to hear the flow of good news coming from OHSU in the years to come."
In addition to the Knight Cancer Institute, Dutch Bros also supported the Albie Aware Foundation in the Sacramento area. The foundation supports anyone in their area facing Breast Cancer. Albie Aware is there to offer support, help with referrals, answer questions, discuss options, and help navigate the journey.
All Dutch Bros locations in seven states participated. To find a Dutch Bros near you, visit http://www.dutchbros.com/locations.
###
About Dutch Bros Coffee
Dutch Bros Coffee is the country's largest privately held, drive-thru coffee company, with over 250 locations and over 4,000 employees in seven states.
Dutch Bros serves specialty coffee, smoothies, freezes, teas and a private-label, Dutch Bros Blue Rebel™ energy drink.
The rich, proprietary coffee blend is handcrafted from start to finish. Every ingredient is measured, every process timed, and every cup perfected.
With a mission of, "Making a Difference, One Cup at a Time," Dutch Bros donates over $1 million annually to nonprofit organizations and local causes selected by local owner-operators.
Dutch Bros Coffee is headquartered in Grants Pass, Ore., where it was founded in 1992 by Dane and Travis Boersma, brothers of Dutch descent.
To learn more about Dutch Bros, visit http://www.dutchbros.com, like Dutch Bros Coffee on Facebook or follow @DutchBros on Twitter.
FOR MEDIA ONLY
Contact: Jen Wheatley, pr(at)dutchbros(dot)com, 541.226.7787