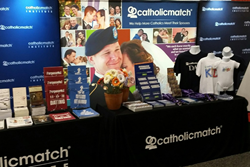 Your story is your own.
Pittsburgh, PA (PRWEB) November 03, 2015
The CatholicMatch Institute released 'The Catholic's Guide to Being Single' in Philadelphia, PA during the World Meeting of Families 2015. The Institute feels that it is important not to neglect single Catholics when having a conversation about the importance of family life as they are the building block of Catholic marriages.
Neither God nor the Church has forgotten single Catholics.
The World Meeting of Families has allowed for a larger dialogue about the condition and purpose of today's single Catholics. While marriage and birth rates are on the decline, now is the time to recognize and support the single Catholic community.
This is why the CatholicMatch Institute has released 'The Catholic's Guide to Being Single' which addresses single Catholics as whole and valued persons. Single Catholics should not be frustrated by this "waiting" period, but they should embrace their lives today, making themselves worthy of whatever vocation God will eventually call them to.
Sue Haggerty, editor of the guide says, "Your life is right now so live the fullest life that you can."
Video: Sue Haggerty Discusses the Catholic's Guide to Being Single at WMOF 2015
This message is so important to the work at the CatholicMatch Institute that they are offering the downloadable ebook at Pay What You Want pricing. Anyone can afford this book for themselves, their loved ones, or their church group/parish.
See what Catholic leaders, speakers, and authors have said about the book so far:
"I love that you did this! The world needs it."
-Chris Stefanick, Real Life Catholic
"Well written, engaging and packed full of both positive and practical information, this guide is sure to be a terrific support to singles of any age. Highly recommended!"
-Lisa Hendey founder of CatholicMom.com and author of 'The Grace of Yes'
"This book equips readers to toss self pity, to hold onto hope, and to use our time spent single to improve our relationships with God and with ourselves, which will make us better spouses in the long run."
-Arleen Spenceley Catholic speaker, & author of 'Chastity is for Lovers'
"I'm Catholic, I'm single and I felt like (the Catholic's Guide to Being Single) spoke to many of the different struggles and questions I've had in my life."
-Anne Marie Jensen, actual single Catholic
#YourStoryIsYourOwn