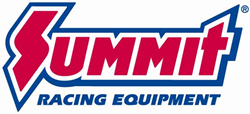 Tallmadge, OH (PRWEB) November 06, 2015
A triple-Stromberg intake setup looks cool on a classic-style small block Chevy. Now street rodders can have that look—and the airflow to back it up—with Stromberg Carburetor's BIG97 Tri-Power Carburetors.
On the outside, the BIG97 tri-power looks like a set of Stromberg's original Genuine 97s, right down to the early style cast iron base, riveted throttle and choke shafts, and stainless steel linkage. But each BIGF97 carburetor flows 250 cfm—55% more than the original Genuine 97—for a total of 750 cfm of airflow. That will keep a hot small block well-fed.
Stromberg Carburetor didn't stop there. It gave the BIG97s an oval cut-out just under the throttle plates. That allows any cylinder to draw from both barrels, providing dual-plane drivability with top end horsepower more like a single plane intake. A new primary-side power valve feeds fuel directly into the emulsion tubes. The more emulsified the fuel is, especially at high rpm when manifold pressure is low, the easier it is to atomize, distribute, and burn. That results in more high rpm horsepower with less fuel consumption.
BIG97 primaries have a swap-in fitting to provide ported vacuum for vacuum advance type distributors. That improves combustion efficiency in cruising mode for more torque and improvements in fuel mileage.
Stromberg Carburetor BIG97 Tri-power Carburetors are available as a set, as in ready-to-run packages for small block Chevy with linkage and fuel line. Individual primary and secondary carburetors are also available. Choose from "barn find" natural, chrome, and black and chrome finishes.
Stromberg says some intake manifolds will need some porting to effectively handle the BIG97s increased flow rate. Find instructions on doing that plus other tech info on the Stromberg Carburetor website.
Summit Racing Equipment
http://www.SummitRacing.com
1-800-230-3030