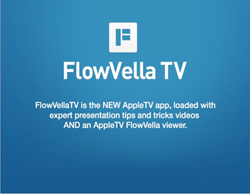 Seattle, WA (PRWEB) November 03, 2015
Brent Brookler, CEO of FlowVella said, "If you want to present on AppleTV, you need the only presentation app on AppleTV today, FlowVellaTV. FlowVellaTV plays any FlowVella Presentation made from our FlowVella apps for Mac or iPad on any TV connected to the new AppleTV. Now instant big-screen interactive presentations for Conference Rooms to Business Signage, Museums to Expositions, Living Rooms to Universities are possible just by adding AppleTV to an existing TV. Just download the FlowVella software for creating 'flows' in the Mac or iPad App Stores and FlowVellaTV from the TVos Store -- all at no-cost. Certain premium features are available at additional costs but our goal is to give users fully functional presentation software without cost and then earn our upgrades one satisfied user at a time."
Brookler continued, "FlowVellaTV is your new presentation tips & tricks destination on AppleTV. Presentation is not a four letter word. It really isn't, but a lot of us dread to create presentations and give them, but if you master this skill, it will lead to greater success. Creating, sharing and giving great presentations will lead to better grades, promotions, getting that new investor and so much more.
We have teamed up with Ethos3, an award winning presentation training and design agency, with more presentation experts and partners to come. Ethos3 has a thriving presentation training and presentation design business and they write for the SlideShare blog. We will bring you weekly videos all across the spectrum of presentation design and delivery. We will have videos on presentation design and layout tips. We will show you how to integrate video and multimedia into your presentations. We will show you the best practices for colors, and font choices and sizes. We will have tips and tutorials for the before, during and after your presentation delivery."
Included in the FlowVellaTV App is the first generation AppleTV FlowVella viewer. Users enter a 'Flow Code' generated by the free FlowVella Mac and iPad apps into their AppleTV and instantly can present and swipe through their FlowVella presentations with the new AppleTV touch remote. Users can launch videos and galleries and play any 'Flows' on any new AppleTV whether in the living room, the board room, or the classroom.
Sharing presentations becomes wildly simple with the New AppleTV and FlowVellaTV. Just email, text or verbally share a Flow Code for any presentation made and an AppleTV user has instant access to the full presentation, including video. Post a Flow Code on Facebook or other social media, on a website or anywhere and an AppleTV user needs just that code to see the presentation on their TV.
NOTE: AppleTV does not allow web surfing, so web links within Flows will not work. Viewing flows on AppleTV is a different experience than viewing in the FlowVella Mac app, iPad app or via our web player due to the unique characteristics of AppleTV and the remote. To create Flows, you will need to install the freely available FlowVella Mac or iPad app.
● For information about FlowVella, visit http://FlowVella.com or in the iPad mobile digital device or Mac App Stores search, "FlowVella"
● Download FlowVella for iPad mobile digital devices no-cost at: http://bit.ly/Presentation_App
● Download FlowVella for Mac computers no-cost at: http://bit.ly/Flowboard_for_Mac
● Download FlowVella for AppleTV in the TV App Store (tvOS) on apple TV – Search for: FlowVella
● Advanced features are offered through an optional upgrade to FlowVella Premium
● To contact FlowVella for press and media inquiries, send an email to Jonathan@FlowVella.com or call 877-887-0007
● To contact FlowVella for technical or investor relations information, send an email to Brent@FlowVella.com
FlowVellaTV, Flow Code and FlowVella are Trademarks of FlowVella, Inc., All Rights Reserved.
Apple, iPad, osTV, Apple TV, Mac and Mac App Store are Trademarks of Apple, Inc.