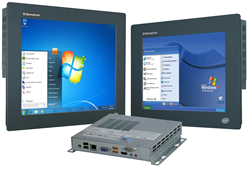 Milford, MA (PRWEB) November 03, 2015
Comark, a leading manufacturer of industrial computer hardware, announces fanless processor upgrades made to the Nematron™ brand ePC-Lite industrial panel computer family. First introduced in 2010, the ePC-Lite Series has evolved into a high performance industrial computer offering that now features Intel® Quad Core fanless processing power. With the Quad Core Celeron N2930 CPU, the ePC-Lite's now run at significantly faster speeds than its fanless predecessor, the ATOM N2800, performing at 1.83 GHz with bursts up to 2.16 GHz.
The ePC-Lite Series is a low-cost alternative industrial panel mount computer solution for applications requiring high performance and reliability without an overload of features.
The ePC-Lite's include two all-in-one touch screen computers with display sizes of 15.0" and 19.0", along with a display-less computer version, the nPC10 node computer. All versions include UL-approved ordinary locations compliance as well as a 2-year warranty.
For a complete list of specifications and features of the Nematron ePC-Lite Series, visit http://www.nematron.com/products/ipcs/epc_lite.html.
About Comark
Comark, a leading manufacturer of industrial computers, NEMA 4X enclosures, LCD systems, flat panel displays, thin client solutions, and high speed distributed I/O platforms for over 41 years. As an ISO 9001:2008 Certified Company, Comark LLC is a global provider to Fortune 1000 companies in the industrial automation, military, building automation and self-service automation markets.