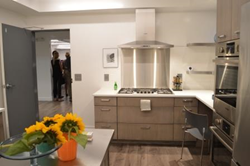 Evanston, IL (PRWEB) November 02, 2015
For decades, the closest thing to a home-cooked meal that the men in McGaw YMCA's Residence Program could enjoy was of the microwavable kind. But this week, the Mosaic Community Room and Kitchen officially opened to provide healthier dining options for residents.
"Those who call McGaw YMCA home can now cook, eat, and host their families with dignity," said Mark A. Dennis, Jr., McGaw YMCA President and CEO. "This is an outstanding accomplishment that could not have been possible without the generosity of so many people, businesses, and organizations."
For 130 years, McGaw YMCA has provided short- and long-term housing for men. Its conveniently located facility provides residents with affordable housing, ongoing case management, access to wellness facilities, and a caring community for men at various stages of their lives. An average of 170 men reside at McGaw YMCA at any given time; more than half have lived here for at least three years, and some have stayed for a decade or more.
Two years ago, McGaw YMCA began seeking support to convert a neglected basement meeting room into a welcoming space for residents to prepare food, dine together, learn computer skills, and meet with Residence Program staff.
"It's outstanding what the contractors and architects have done with this space," said Thomas Moran. The Thomas and Susan Moran Foundation provided significant funding for the Community Room, while the City of Evanston provided support for the kitchen through a Community Development Block Grant.
Designs for Dignity, a Chicago-based organization that provides pro bono services to non-profit organizations, provided more than $100,000 in design services and material donations. The result is a modern, open setting, complete with stainless steel appliances, hand-made dining tables, casual seating, as well as a case management office. One wall houses five computers, while a separate area provides space for the always welcome pot of freshly-brewed coffee.
Designs for Dignity facilitated donations from numerous companies, including Gibbons, Fortman & Associates architecture services, John Michon Design, and Vesta, which provided cabinets and countertops. Designs for Dignity has just approved another grant to redesign all 172 resident rooms. The project will begin in 2016.
"The Mosaic Room provides residents with the option to have healthier meals, to learn new skills, and to have a beautiful space to call their own," said McGaw YMCA Senior Director Pamela McKenzie. "From the coffee bar to the kitchen, the Mosaic Room will be staffed by resident member volunteers for the benefit of themselves and their community."
The McGaw YMCA (http://www.mcgawymca.org) is a cause-driven, charitable organization that seeks to strengthen community with a focus on youth development, healthy living, and social responsibility. Our programs for children and teens support them academically, emotionally, and socially. Through these programs, the McGaw YMCA has positively impacted the Evanston community for nearly 130 years.