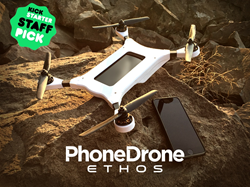 By giving your smart phone wings, we are unlocking a whole new dimension that has never been available to your mobile device
Sandpoint, Idaho (PRWEB) November 02, 2015
After landing a record breaking $1.5 million dollar deal on ABC's number one hit show, Shark Tank, xCraft is proud to announce the release of PhoneDrone Ethos Kickstarter campaign, a small drone that allows the user's smartphone to fly and automatically follow a subject.
It only took 28 hours for PhoneDrone to surpass its goal on Kickstarter, a popular crowd funding platform that allows teams to fund their projects through pre-sales.
PhoneDrone Ethos allows users to insert an iOS or Android smart phone inside to enjoy footage from heights that were never possible before. The drone leverages the sensor, processor and wireless capabilities of a smartphone to get aerial footage at a fraction of the cost of a typical drone. PhoneDrone Ethos is the first drone that can be controlled by Apple Watch. PhoneDrone is available on Kickstarter for $235 until November 30th when the campaign ends.
"By giving your smart phone wings, we are unlocking a whole new dimension that has never been available to your mobile device" said JD Claridge, president and CEO of xCraft a drone technology startup located in Sandpoint, Idaho.
The xCraft team appeared on ABC's hit show Shark Tank on Friday, October 23 and stunned viewers as all five sharks (Mark Cuban, Lori Greiner, Kevin O'Leary, Daymond John and Robert Herjavec) closed a deal for a share of 25% in the company, which granted 1.5 million dollars to xCraft's creation. The sharks all willingly agreed to the deal with clear enthusiasm, and O'Leary announced, "You guys are going to own this market."
PhoneDrone Ethos literally gives smart phones wings. With an innovative design and backing from some of the world's most successful business people, PhoneDrone Ethos is set to make history.
Founded in 2014 xCraft is a drone technology company located in Sandpoint, Idaho and it's also know for the X PlusOne, a vertical take-off flying wing that can fly at speeds of up to 60mph.
For more information, visit xCraft.io
Or contact Alex Rodriguez at 954-213-4977 or alexR(at)xcraft(dot)io