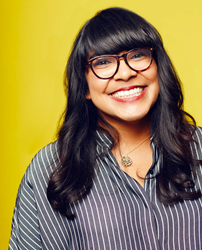 Los Angeles, CA (PRWEB) November 02, 2015
Omelet (omeletla.com), the LA-based creative company, announced today that Thas Naseemuddeen has been appointed Chief Strategy Officer. Naseemuddeen joins the company after two years at Deutsch LA, where she served as VP Group Strategy Director and led strategic efforts for major brands like Target, Georgia Pacific and HTC, among others. As a key member of Omelet's executive team, Naseemuddeen will be responsible for leading the company's strategy department on developing, communicating, and executing strategic planning initiatives for current clients, as well as working with the company's new business team to attract future partnerships. This announcement comes one month after the agency welcomed two former 72andSunny executives, Grant Holland and Dan Ruth, as Chief Creative Officer and Chief Production Officer respectively.
"Thas is a highly experienced strategist and leader. She's been crucial to her clients' successes and integral in building and leading strategic teams for some top agencies. She is also an outstanding developer of people – something critically important to Omelet's culture. We're very excited to have her joining our ranks as a Partner and member of our governing Management Committee," said Don Kurz, Omelet's Chairman and CEO.
With more than nine years of experience at agencies like TBWA\Chiat\Day, Team One, BBH LA, and Deutsch LA, Naseemuddeen brings to Omelet a wealth of strategic experience for more than 20 brands including Google, Pepsi, Red Bull, Lexus, Diamond Foods, and more.
"It can be hard to find companies that match your creative values, ambition, and desire to solve problems in a new and different way - and have it all wrapped up in an awesome group of people you can't wait to see everyday," said Thas Naseemuddeen. "It's what I've found with the group at Omelet and I could not be more excited to get started."
When she's not busy working, Naseemuddeen is chasing down her three little nieces and is involved with helping to shape and grow Machine Project – a non-profit experimental art space in Echo Park. She joins the company at its Culver City headquarters, The Pterodactyl, on November 2.
"Thas is a stellar strategist," said Ryan Fey, Omelet's Co-Founder and Chief Brand Officer. "She's amazing at what she does and has an infectious, creative and optimistic personality. She's a perfect fit for our culture and we're pumped to have her."
About Omelet:
Omelet is a creative company that solves complex marketing problems for progressive partners, including AT&T, Bravo, Microsoft, Ubisoft, and Walmart. The company also has divisions – including Omelet Studio, Omelet To Go, and Omelet Brands – to create original brand programming, live interactive experiences, and original owned intellectual property.
Contact:
Devin Desjarlais
Omelet Director of Communications
devin[dot]desjarlais[at]omeletla[dot]com
424-672-8606