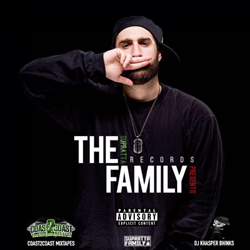 Indianapolis, IN (PRWEB) October 31, 2015
Today Coast 2 Coast Mixtapes announce the release of the "The Supratta Family - The Family (Hosted by @DjKhasperBhinks)" by Supratta Records and Dj Khasper Bhinks. The Mixtape is currently available for streaming and download at http://coast2coastmixtapes.com/mixtapes/mixtapedetail.aspx/the-supratta-family-the-family-hosted-by-djkhasperbhinks.
Supratta Records (founded in 2013 by Joey Supratta) is an independent Record Label based out of Los Angeles, CA and consists of 7 artists: Joey Supratta, Ttereve, Hollow Brooks & Eterna (of Seriate Collective), Million, Izzo, & R&B singer C. Roll. With Supratta Records (Also known as S.R.) being home to these unique and talented artists, each member showcases their own sound and style differently.
Together, the artists of S.R. have performed at many well-known venues and arenas such as: The Roxy Theater, The Key Club, and The Viper Room in Hollywood, all the way to The Airliner & The Belasco Theater in Downtown Los Angeles, and many more.
Supratta Records Presents "The Family" is a team compilation mixtape filled with a variety of Hip/Hop and Rap genres. With their undeniable drive and determination, S.R. has no plans of stopping anytime soon.
The mixtape features 22 tracks, including those below:
01. Welcome To The Family [Intro]
02. Joey Supratta - Who's There (feat. Hollow Brooks)
03. Million - All Me (How I Want To)
04. Seriate Collective - Seriate Anthem
05. Joey Supratta - LYFE
06. Ttereve - Saints
07. Izzo - Creepin
08. Joey Supratta - Young Dillinger (Prod. By Avagodro Beats)
09. Seriate Collective - Deploy (Prod. By Cri$pyBoy)
10. Ttereve - Keepin' Up With The Joneses
11. Million - Qualifications
12. C. Roll - One More Time (R&B)
13. Joey Supratta - If Money Could Buy Happiness
14. Ttereve - Walking Dead Analogy
15. Izzo - Local Grind
16. Joey Supratta - This Is California (feat. Ttereve)
17. Seriate Collective - I Ain't Plan 4 This
18. Million - Game Of Chance
19. Joey Supratta - B.O.S.S. L.I.F.E
20. Izzo - What To Do
21. Ttereve - Who It Is
22. Joey Supratta - The Family (Prod. By Versace Dre)
Supratta Records is currently seeking press opportunities, interviews, features, and more. They can be reached at the following locations:
To download or listen to the new project, The Supratta Family - The Family (Hosted by @DjKhasperBhinks), please visit the Coast 2 Coast Mixtapes site.
About Coast 2 Coast Mixtapes:
Coast 2 Coast Mixtapes are the most widely distributed mixtapes in the world, with over 100 million downloads/plays generated by over 300 volumes officially hosted by major artists. Coast 2 Coast has a solid reach in the new music industry with a digital magazine, DJ coalition, industry tips blog, yearly convention, and more. Coast 2 Coast Mixtapes represents a unique opportunity for artists of all urban genres, from major to indie. For more information, visit http://www.coast2coastmixtapes.com.