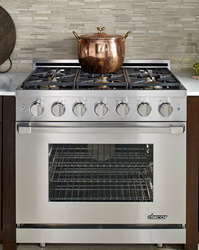 "The opportunity to partner with in-demand designers and Luxe Interiors + Design on the Maison de Luxe project is a testament to the products we manufacture," said Dacor CEO Chuck Huebner
LOS ANGELES, CA (PRWEB) November 03, 2015
Dacor®, a leading manufacturer of ultra-premium kitchen appliances, will be participating in the second national Designer Show House, Maison de Luxe, presented by Luxe Interiors + Design. The Beverly Hills historic Greystone Mansion project will be transformed by 20 of the most sought-after interior designers in the country.
"The opportunity to partner with in-demand designers and Luxe Interiors + Design on the Maison de Luxe project is a testament to the products we manufacture," said Dacor CEO Chuck Huebner. "This partnership highlights our ongoing commitment to providing top-of-the-line products that add a signature touch to the kitchen."
A stunning centerpiece of the kitchen, the home will feature the Renaissance® Self-Cleaning Gas Range in the newest Dacor Alchemy™ color, Gunmetal. Dacor Alchemy, a proprietary process that transforms each appliance or element into a stunning accent piece, serves as an alternative to chrome plating, metallic paint finishes, and other metallic processes.
TWEET THIS: #MaisonDeLuxe15 Design Show House features @DacorKitchen's Renaissance Self-Cleaning Gas Range: http://bit.ly/1JrrGr3
The oven also comes complete with DualStack burners that provide continuous simmer-to-sear control, as well as Three-Part Convection cooking and a self-cleaning feature. Every facet of the range is designed for precision cooking, catering to chefs who demand perfection in every meal they create.
"Dacor products are manufactured in Southern California and reflect the craftsmanship of skilled associates found only in the Los Angeles area," said Dacor President Steve Joseph. "The Greystone Mansion has such a strong connection to California history and a Dacor range is a perfect fit for the mansion's elegant kitchen."
Maison de Luxe will open its doors for a VIP Preview and Reception on Nov. 5, 2015 and will remain open to the public for tours Nov. 7-8, 11-15, and 18-22. The designer home is located at 905 Loma Vista Drive, Beverly Hills, CA 90210.
# # #
Media Notes
Related Links:
Greystone Mansion website
About Dacor
Celebrating its 50th anniversary, Dacor is a manufacturer of ultra-premium kitchen appliances. Designed and built in California, Dacor's cooking appliances integrate function and technology to create high-performing, intuitive products that reflect the lifestyle and needs of the passionate cook. Since 1965, Dacor has been responsible for many of the innovations that have improved the way people cook in the modern kitchen. Dacor is family-owned and embraces the legacy, heritage and expertise of a third generation to lead the company into a new age of cooking innovation. http://www.dacor.com.
About Greystone Mansion
Architect Gordon B. Kaufman began building Greystone for the Doheny family in 1927. The 46,000-square-foot estate, with formal gardens on 18.5 manicured acres, is situated in Trousdale Estates above famed Sunset Boulevard. Due to the generosity of participating designers and sponsors, and through Friends of Greystone, a non-profit organization dedicated to the restoration of Historic Greystone Estate, the property continues to receive lasting improvements and working capital to help preserve its status as one of the great houses in America. For more information visit, http://www.greystonemansion.org/Home_Page.html