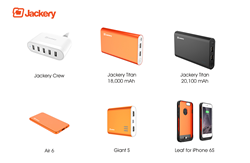 November and December are the busiest time of the year in terms of holiday travels. Since Jackery mobile chargers help folks stay charged on the go, our new chargers are great for holiday gift giving for friends, family, and as corporate gifts to clients.
Santa Clara, CA (PRWEB) November 03, 2015
Just in time for the holiday traveling and gift-giving, Jackery Inc., today announces its new line of portable battery chargers for cell phones. The new Jackery portable batteries feature super-fast charging times, greater capacities, and the signature slick designs, premium aluminum surfaces, and colors, that make Jackery's products stand out in a market of often dreary-looking competition.
"Jackery chargers are the perfect holiday gift for yourself, or your loved ones," says York Wu, CEO of Jackery. "If you're traveling for the holidays, they're great for keeping your phone charged through long flights and extended trips. They make great stocking stuffers and end gifts for anyone in your life who has a cell phone or tablet."
Jackery's new holiday lineup includes:
The Crew: 5-Port USB Charger
http://www.jackery.com/jackery-crew/
Key Features:
Can help you charge up to 5 mobile devices at once! No more running out of electric outlets to plug devices to, or running out of USB pluggers to use.
It works for: iPhones, iPads, Samsung Galaxy S6, S5, Note 4, 3, etc
The Titan: A Huge 18000/20100 mAh Capacity Battery with Dual Charging Ports, in a Portable Size
http://www.jackery.com/jackery-titan/
Key Features:
18,000/20,100 mAh battery
1 full charge can charge an iPhone more than 10 times
Dual charging ports charge two devices at once; up to 3.4A fast charging
It works for: iPhones, iPads, Samsung Galaxy S6, S5, Note 4, 3, etc
Air 6
http://www.jackery.com/jackery-air
Key Features:
Thinnest portable charger with 3000mAh; slick design, matching your iPhone Apple lightning cable included
It works for: iPhone 6s, iPhone 6s plus, iPhones, iPads
Giant S
http://amzn.com/B015OWZ1ZC
Key Features:
QUICK CHARGE (QC) 2.0, charges up to 75% faster, get up to 8 hours phone usage from just 15 minutes charging!
USB TYPE C, The world's first external battery charger with USB-C input technology, support 3A fast re-charging of Jackery Giant S, only 4 hours to recharge Jackery
It works for: iPhones, iPads, Samsung Galaxy S6, S5, Note 4, 3, etc
Leaf for iPhone 6S
http://www.jackery.com/jackery-leaf-iphone6/
Key Features:
Detachable battery case for iPhone 6s and iPhone 6
Protective phone case included
It works for: iPhone 6s, iPhone 6
"If you want to quickly charge your cell phone, the Jackery Giant S is the fastest Jackery charging product," says Jeh Lin, Vice President of Business Development and Corporate Success at Jackery. "With Quick Charge 2.0 output, it can fast charge an iPhone, providing up to 8 hours of usage time in just 15 minutes of charging. It can also charge two devices at once with its dual charging ports. With Type-C input, Jackery Giant S can be re-charged in just 4 hours and re-used up to six times on that one charge."
"If you want power," Lin continues, "the Jackery Titan is the most powerful Jackery product. At 20,000 mAh, Titan can charge an iPhone at more than 10 times. It also has dual charging ports, charging two devices at once. It can also charge a device quickly at 3.4A output."
"November and December are the busiest time of the year in terms of holiday travels," says Wu. "Since Jackery mobile chargers help folks stay charged on the go, our new chargers are great for holiday gift giving for friends and family, and as corporate gifts to clients. We even offer custom orders and engraving for businesses and organizations who want to give their clients and employees unique end-of-year thank you gifts. Jackery is all about empowering people's mobile lives at affordable prices. Our prices start at just under $15 and you can get our Jackery charges through Amazon or our online store."
About Jackery
Jackery mobile battery chargers go the distance. From sports fans to students, moms to mountain climbers, Jackery empowers people on the go. Work and play longer than ever before with Jackery's advanced battery solutions for smartphones and tablets. Jackery is a Silicon Valley company, committed to providing exceptional, affordable mobile battery chargers for those who go the distance. To learn more, visit http://www.jackery.com