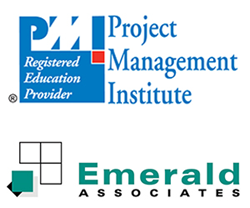 Emerald Associates and their T100 course have met PMI's rigorous quality criteria for course content, instructor qualification, and instructional design.
Calgary, Alberta (PRWEB) November 02, 2015
As a longstanding Oracle authorized training partner, all Oracle Primavera certified courses taught by Emerald Associates have and will continue to be recognized by PMI under Oracle University. However, with the development of their own industry specific training course entitled "T100 – Turnaround Management Using Primavera P6," they went beyond the basic Oracle Primavera P6 training and as a result, needed to acquire the Registered Education Provider (R.E.P.) designation for themselves.
Registered Education Providers (R.E.P.) are organizations approved by PMI to help project managers achieve and maintain the Project Management Professional (PMP), Program Management Professional (PgMP) ® and other PMI professional credentials. Emerald Associates and their T100 course have met PMI's rigorous quality criteria for course content, instructor qualification, and instructional design. Primavera P6 is a powerful tool for scheduling maintenance work, and after assisting on hundreds of turnarounds themselves, Emerald Associates has developed effective strategies and process improvements to get the most out of Primavera P6 when managing and scheduling such intense projects.
The T100 Turnaround Management Using Primavera P6 course expands on the skills developed in the Oracle Primavera P6 basic and advanced courses (102, 102A) by applying them to specific turnaround project examples. Unlike a major capital project where activities are planned in durations of days or months, typical turnaround activities are planned in hours or less and updates are completed once or twice per day, as opposed to once or twice per month. The T100 course takes those project differences into consideration and covers hourly scheduling, calendar creation specific to turnarounds, resource loading for turnarounds, and creating and managing turnaround templates in P6. Participants who finish the T100 course receive thirteen professional development units (PDUs) and a certificate of completion.
The T100 course is part of Emerald's Turnaround Methodology that includes training as well as consulting services, integrations, staff augmentation, and P6 enhancement tools. These tools include: a barcode based progressing system known as TAPS, EP-dashboard data visualization tool for Primavera P6 and other applications for real-time reporting, and the P6-Loader, an automation tool for data entry through the secure import and export functionality of data between Primavera P6 and Microsoft Excel. Emerald Associates is offering free webinars highlighting their P6 enhancement tools for turnarounds including proven reporting methods and scheduling strategies presented by their VP of Solutions, Ian Nicholson.Registering and attending these webinars will provide a good preview of the caliber of their industry expertise and the value of their T100 course.
About Emerald Associates Inc.
Emerald Associates is an Oracle Platinum Partner specialized in Primavera and amongst the select few seasoned Oracle Platinum Partners worldwide. Since 1995, Emerald's dedicated team of project managers, engineers and programmers have been delivering innovative solutions for clients in project based industries ranging from oil & gas, nuclear, health care, pharmaceutical, engineering, construction and the public sector. They pride themselves on delivering best-of-breed project management solutions to a diverse client base, building longstanding relationships through quality Primavera implementation, integration, unique enhancement tools and training. With over 7000 students trained, they differentiate themselves from the competition with excellent trainers that use the tool in practice, allowing them to draw on over 20 years of experience to go above and beyond the out-of-the-box course material with practical tips and tricks.
About Project Management Institute (PMI)
Project Management Institute is the world's leading not-for-profit professional membership association for the project, program and portfolio management profession. Founded in 1969, PMI delivers value for more than 2.9 million professionals working in nearly every country in the world through global advocacy, collaboration, education and research. PMI advances careers, improves organizational success and further matures the profession of project management through its globally recognized standards, certifications, resources, tools, academic research, publications, professional development courses, and networking opportunities. As part of the PMI family, Human Systems International (HSI) provides organizational assessment and benchmarking services to leading businesses and government, while ProjectMangagement.com and ProjectsAtWork.com create online global communities that deliver more resources, better tools, larger networks and broader perspectives.