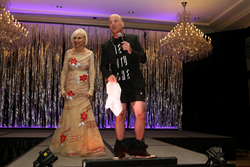 Westlake Village, Calif. (PRWEB) October 30, 2015
Howie Mandel "dropped trousers" at the star-studded 10th Annual Denim, Diamonds & Stars, presented by Raiman Rocks on Sunday, October 25, 2015. The gala was held at the Four Seasons Hotel in Westlake Village, Calif. to raise money for ACT Today! (Autism Care & Treatment Today!), a national non-profit organization whose mission is to provide access to immediate care and treatment to children with autism. The event drew over 400 guests, including corporate leaders, celebrities, and families impacted by autism.
The evening was opened by longtime supporter of ACT Today!, Leeza Gibbons, TV host and recent winner of "Celebrity Apprentice". During the live auction, honoree and autism dad Shawn Stockman, member of Boyz II Men, raised $8,000 for a weekend in Vegas with VIP tickets to see the best-selling R&B group of all time, by crooning an a cappella medley of his hits. The next item up for bid in the auction was a gown designed by Lebanese designer Saiid Kobeisy and worn by ACT Today! Executive Director Nancy Alspaugh-Jackson. Waiting backstage to receive his award, honoree Mandel burst onto the stage to up the bidding, proceeded to offer his pants, which he dropped to his knees, and even his underwear which did remain on the popular comedian. Mandel quipped "I don't have Shawn's talent so I have to do something to top him". Also receiving an award that evening was actor Max Burkholder ("Parenthood"), presented by show creator Jason Katims.
The fundraiser, created 10 years ago by former television executive and producer Nancy Alspaugh-Jackson and former FOX Television executive Read Jackson, parents of a 13 year old son with autism, has honored many Hollywood celebrities including autism parent Joe Mantegna of "Criminal Minds", actor Nolan Gould of "Modern Family" and "Dancing with the Stars" host Tom Bergeron. "I just called everyone I knew from television shows that I had produced, like Leeza Gibbons and Tom Bergeron, and asked them for help, and they showed up, donating their time and talents," said Alspaugh-Jackson. Last year Alspaugh-Jackson's ex-husband, "TODAY Show" host Matt Lauer asked how he could help and she said "make a donation". The next day a $10,000 check was in the mail. "Matt is one of the most caring, generous people I know," says his ex-wife, who remains friends with the reigning king of morning talk show hosts. Alspaugh-Jackson added, "Howie is just a giant toddler with a heart of gold, Leeza and Tom Bergeron are great human beings in addition to being the best hosts in the business."
In addition, several stars have donated auction items to help raise funds for ACT Today!. Mandel has donated VIP tickets to "America's Got Talent", Lauer donated VIP tickets to the TODAY Summer Concert Series and tour of the "TODAY Show" studio, Tom Bergeron has donated VIP tickets to "Dancing With the Stars" along with a Meet & Greet, and Adam Levine of Maroon 5 has donated signed guitars, concert tickets and tickets to "The Voice."
According to the Centers for Disease Control and Prevention, 1 in every 68 children in America is diagnosed with autism spectrum disorder, making it the fastest growing developmental disability in America. It is also considered the most underfunded. Proceeds from the 10th Annual Denim & Diamonds for Autism fundraiser will make it possible for ACT Today! to continue providing families access to behavioral therapy, medical care, assistance dogs, social skills programs, assistive technology, and even safety equipment like helmets for the self-injurious children, as well as fencing for those who wander.
The 10th Annual Denim, Diamonds & Stars' sponsors include: Raiman Rocks, Control4, Tolman & Wiker Insurance Services, LLC, Shape of Behavior, Center for Autism & Related Disorders, Inc., NBC Entertainment, Fremantle Media, Principato-Young Entertainment, Nevers, Palazzo, Packard, Wildermuth & Wynner, PC; Vin Di Bona Productions, City National Bank, Saiid Kobeisy, Rage Models, Tito's Vodka, Private Protective Services, Burbank Printing and Westlake Magazine.
For more information on ACT Today!'s 10th Annual Denim, Diamonds & Stars, contact Event Executive Producer Daphne Plump at daphne(at)act-today(dot)org.
About Howie Mandel:
Emmy Award nominated Howie Mandel has remained a constant force in show business for over 30 years, in all aspects ranging from his own production company, ALEVY PRODUCTIONS, to TV Host, comedian, author and more. Currently Howie serves as the judge on NBC's summer hit series, "America's Got Talent". In the TV world, Howie has impacted TV culture and remains a well recognized figure in the acting community. Howie's Emmy Award-nominated animated children series Bobby's World also ran a successful eight seasons on FOX and now appears in syndication six days a week in 65 countries. Howie attributes the show's success to drawing the story lines from real life. Howie has done countless comedy specials both on cable and network television. Aside from acting, Howie is also a well recognized author, with his frank, funny, honest memoir "Here's the Deal: Don't Touch Me". The memoir that revealed his ongoing struggle with OCD and ADHD–and how it has shaped his life and career–made the New York Times Bestseller list on its first week and remained on the list for several consecutive weeks.
About ACT Today!:
ACT Today! (Autism Care and Treatment Today!) is a 501(c)(3) non-profit organization dedicated to raising awareness and providing treatment services and support to families of children with autism who cannot afford or access the necessary tools their children need to reach their full potential. For more information about ACT Today!, visit: http://www.act-today.org.