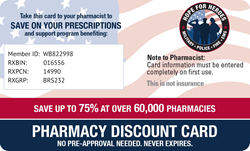 Miramar Beach, FL (PRWEB) November 03, 2015
On November 11, Veterans Day, we commemorate those who have served our country. To help honor them every day, Hope For Heroes Foundation has partnered with USA Medical Card, a leading provider of free pharmacy discount cards, to help increase funding for programs that empower independence for our disabled military veterans and other heroes across the country, and help more people afford their prescriptions.
"Due to USA Medical Card's support, we can help more of our nation's disabled veterans," said Mitch Serlin, President of Hope For Heroes. "They need help healing, and deserve the opportunity to get back their healthy, active lifestyle, after having suffered debilitating injuries while serving our country. Our trips and outings provide a time to bond with other heroes, caregivers, family and friends."
The pharmacy discount card benefiting Hope For Heroes, administered by USA Medical Card, is free and available to everyone. It is accepted at more than 60,000 pharmacies across the country—local, regional and national chains such as CVS, Costco, Target, Rite Aid, Walmart and Walgreens.
The pre-activated card reduces the cost of prescriptions by as much as 75%. Eligible Rx medications include those frequently prescribed for heart disease, hypothyroidism, asthma, diabetes and other health conditions. It can be used by individuals to complement and help fill in gaps of their health insurance plans. Or, individuals without insurance can use the card to significantly reduce the cost of their medications. There are no prescriptions that are excluded from possible savings, brand name or generic. It is commonly used on Zolpidem, Amoxicillin, Lisinopril, Metformin and thousands of other popular medications.
"We are extremely proud to be partnered with Hope For Heroes, to help make a difference for our nation's military veterans. This program not only allows people to save money on their prescriptions, it also helps our nation's wounded heroes experience the personal accomplishment that can come from participating in the organization's programs," said USA Medical Card Co-Founder and President Jordan Sessler. "This sponsorship will help ensure more funds are available to help these heroes."
To get a card benefiting Hope For Heroes, you can download one at http://www.HeroesHope.org/free-pharmacy-discount-card or text Heroes to 95577. This short video explains the advantages of the card: http://www.USAMedicalCard.com/video.
# # #
About Hope For Heroes
For more information about the Hope For Heroes Foundation, please visit http://www.heroeshope.org.
About USA Medical Card
For more information about USA Medical Card, please visit http://www.USAMedicalCard.com.
Media Inquiries: 1-914-629-0059