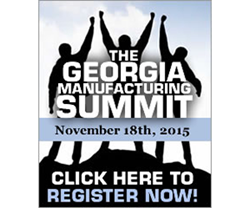 Winners have been selected and will be honored November 18th at the Georgia Manufacturing Summit.
Atlanta, Georgia (PRWEB) October 31, 2015
Promoted as "The People of Manufacturing Awards," a special presentation of awards in a variety of manufacturing categories will be given to four individuals at The Georgia Manufacturing Summit at the Cobb Galleria (Atlanta) on November 18th.
Resulting from nominations that were opened to the employees of manufacturing companies in Georgia, the awards aim to spotlight the achievements of Georgia companies, while honoring the winners for their contributions.
The award categories of Front Line Leadership, Plant Manager, Team Safety, and Team Operational Excellence each received several finalists, as nominations closed. The winners, who have been selected by judges in a number of industry associations, will personally receive regional recognition, and will bring attention to their companies at the Awards Breakfast at this summit in November.