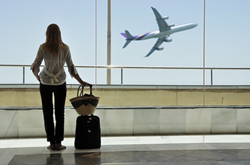 New York, NY (PRWEB) November 02, 2015
The Park King Spot (http://www.parkkingspot.com/), now the largest parking lot in the area, is only a six-minute drive from JFK Airport, offering travelers a secure, affordable new parking option when traveling into and out of the popular airport. The lot, located at 248-61 Rockaway Blvd, Rosedale, NY 11422, is conveniently situated right off the highway at a well-lit site.
"When it comes to parking near JFK airport, there is no bigger parking lot in the area," said the owner of the Park King Spot. "We've been in the airport parking business for over 20 years, so we know how to keep customers' cars safe while they travel. Through the Park King Spot, we aim to provide a stress-free, pleasant experience for anyone traveling via JFK."
Whether someone is traveling for a few days or for an extended period of time, the Park King Spot's menu of options will accommodate all types of travelers' needs. The parking lot has short term parking, long term parking and overnight parking options. Daily, weekly and monthly parking rates are available for all vehicles, including SUVs, passenger vans and trucks. No matter what the length of stay or type of car, it costs only $11.75 per day to park at the Park King Spot.
For customers who park in long term parking, a convenient, complimentary airport shuttle to and from the airport is available to all customers. All of the Park King Spot's shuttles are spacious and clean and are manned by experienced, professional shuttle drivers. Shuttles offer customers a safe and fast way to make it to their flights on time.
"Park with us and we'll take you right to the airport on our shuttle," said the owner. "When you arrive, just give us a call. We'll be right there to pick you up. We make it easy for you to enjoy a relaxing, worry-free trip. With our long term parking services, you can now arrive and depart the airport terminal in the most convenient way possible."
While waiting for the shuttle, Park King Spot customers can dine at a food court on the premises. Fresh, hot coffee is available to all customers, free of charge.
Reservations can be made online by using Park King Spot's convenient online form. Customers simply enter their name, email address, phone number, vehicle drop-off and pick-up dates and vehicle type. No payment is required at the time a reservation is made. Park King Spot makes it quick and easy for customers to check in and out when traveling, without having to fill out additional paperwork.
The Park King Spot lot is safe for all vehicles, offering 24-hour protection via both patrols and video surveillance to keep customer's vehicles secure.
Visit the Park King Spot website at http://www.parkkingspot.com to access directions and a map of the lot, links to JFK traffic updates, JFK flight statuses, JFK weather and more.
Also, visit Park King Spot Facebook page at:
https://www.facebook.com/Park-King-Spot-178039545871063/