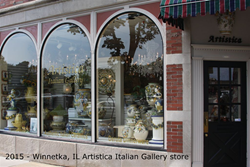 Artistica Italian Ceramics celebrating 25 years in business.
Chicago, IL (PRWEB) November 02, 2015
In today's world companies come and go. It is difficult to find one that not only stands behind their product, but that is also highly respected within their field and has stood the test of time. Artistica is a company that is not only considered the leader for high-end Renaissance-inspired genuine Italian Majolica, but that is also celebrating their 25th Anniversary.
Marco Margaritelli created the Artistica brand on October 29, 1990, bringing the beautiful products from his home town Deruta, in the Italian region of Umbria, to the American public. Artistica's first "warehouse" was an 8"x8" thin shed on Marco's backyard.
Now 25 years later, Artistica has grown to be the pinnacle of craftsmanship. Their products can be seen at the famed Treasure Island Buffet. Artistica's custom "Serpentine Handles" Amphorae also decorate the Mirage hotel executive suites. In addition their products are continuously featured in prime time TV shows like an L.A based reality TV show on E!, New Jersey and Orange County-based reality shows based on Bravo (possibly Housewives??), a famous cooking show on the Food Channel and a multi-year running soap opera show on ABC. They have even graced the patio and pool area of the marvelous late Gianni Versace's patio and pool area at his South Beach mansion. Where else can a person so easily share the same products that have graced the screen of millions of Americans.
In May 1991, they opened their first retail shop in Miami on Biscayne Boulevard.
Artistica then quickly expanded into the B2B market attending trade showrooms throughout the USA. In 2003, they opened their permanent High Point, NC showroom followed by their Las Vegas, NV showroom in the Las Vegas Marketplace.
In 2008 the company relocated in Winnetka, IL operating in conjunction with their flagship store ran by Marco's wife Alice sales team since the year 2000.
That same year they opt to stop attending B2B trade shows, focusing instead to the redevelopment of a their web site that today serve both the B2B merchants and B2C Retail consumers.
Their plans for the future are vast and bright. They will continue to expand their product line and for a limited time with their exciting 25th Anniversary celebration they are offering up to 25% off on all Artistica branded products featured on their website.
About Artistica: Artistica not only sells products, but they are involved with the entire process from going to Italy to handpick pieces but also working closely with their Italian workshops. They sell through the internet, wholesale distributors and professional interior designers.
For more information visit: http://www.artistica.com - PH (800) 754-5363 – Email info(at)artistica(dot)com.