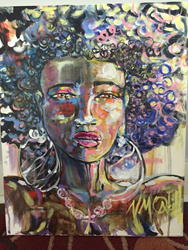 I hope to move you... I hope to challenge and encourage you I hope to find inner healing through bringing my Verizon's of colors dancing together on my canvases.
Spokane Valley, Washington (PRWEB) November 02, 2015
When you first meet Nate O'Neill he is a dynamo of enthusiasm and positive energy. You might never guess his past included a roller coaster ride from International Ministry to Professional Fighter to a term in Prison. Nate will be the first to confess his mistakes in life with no reservation. His outlook however is futuristic and focused on the healing power of art. "Through all the turmoil in my life the art has always been with me," states O'Neill. "It was the one thing I could always count on."
"You can feel the passion in Nate's works. Nate creates both a feel of representational and abstraction in many of his works" says Cameron.
O'Neill's vision is to speak to those who might be needing to hear a life story that leads to a positive outcome. Nate's vehicle to promote his vision and his artwork is the Art Marketing Website Flootie.com. "Flootie is not about random and infrequent sales," states O'Neill. "They are about helping me build my brand and getting the word out through their networking tools to reach my market and those who need to hear what I have to say. I need to reach people with a message and that message carries a much deeper meaning than 'here is my art for sale,'" says O'Neill.
Flootie.com Site owner Dean Cameron states "It is my extreme pleasure to get to know Nate. His enthusiasm to help the arts and artists embodies all that we strive for with Flootie.com. It is exciting to see someone with so much passion utilize the tools we have created on Flootie for just this purpose."
"With Nate's abilities and passion for his outreach and Flootie.com's tools and support for Nate to reach his goals, it is a safe bet that many people will benefit from the effort," says Cameron. You can learn more about Artist Nate O'Neill and contact him directly through his profile page at Nate O'Neill Profile.