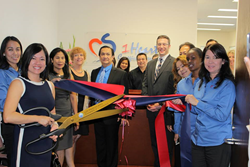 1Heart cares!
Los Angeles, California (PRWEB) October 31, 2015
1Heart Caregiver Services is offering its Business Franchise Seminar this coming November 13, 2015 - "Learn How to Make Money in the Booming Home Care Business." This will be held at the Anaheim Convention Center in Anaheim CA.
The event will be hosted by 1Heart's very own trainer Randolph Clarito (Director of Business and Franchise Development) and Devin Conner (National Franchise Consultant). Both are experts in their respective fields with over a decade of combined Franchise Business experience and more than 30 years of healthcare experience, both local and international.
The presentations will include:

How to setup your own business
The benefits of owning a home care franchise
What makes home care a potentially attractive business
…and many more
This event aims to further educate business owners and future business owners to be able to get into an industry that helps a growing number of baby boomers and serves as a possible highly profitable income generating business. Individual consultation will follow to discuss details of the 1Heart franchise system.
1Heart CEO Belina Nernberg, a consistent 3 year awardee for Los Angeles business and leadership articulated the corporate vision 'To be the family's choice in quality and professional home care across America'.
International Franchise Association IFA have stated that a franchise business increases your chances of business success because you are associating with proven products, services and methods. IFA celebrating 55 years of excellence, education and advocacy, is the world's oldest and largest organization representing franchising worldwide and promoting more than 780,000 franchise establishments that support nearly 8.9 million direct jobs and $890 billion of economic output for the U.S. economy.
The senior care franchise industry as a whole offers the following benefits:

Lowest investment risk
Minimal brick and mortar expense
Short ramp up time
Affordable multiple franchise opportunities
Considered one of the most profitable franchise business
To register to the business seminar simply call 1-844-8-1HEART (1-844-8-143278). Limited seats are available.
About 1Heart Caregiver Services®
1Heart Caregiver Services®, 1Heartcares.com, is a premier senior care service company that provides professional private care duty to seniors and adults requiring assistance in their home and healthcare needs. The company is run and managed by healthcare Executives with local and international training with combined top level work experience of more than 60 years. CEO Belina Tagarao is a Los Angeles IMAGE AWARDS honoree 2013 and HiFi 2014 awardee as a HiFi Ambassador of Goodwill for the Filipino-American business community in Los Angeles and another 2015 award coming this December. 1Heart CS is the only in-Home Care Company that has its in-house 'Caregiver University' spearheaded by Training Director Randolph Neil Clarito. Aligned with 1Heart's principle of 'Continuing Professional Education' the Caregiver University provides ongoing caregiver training to all staff of the company. 1Heart is a Certified Member of CAHSAH(California Association for Health Services at Home), Los Angeles Chamber of Commerce, International Franchise Association (IFA), International Franchise Professionals Group (IFPG) and is accredited by BBB. The operate in Los Angeles County, Orange County, Ventura County, San Fernando Valley, San Bernardino County and Santa Barbara County area.