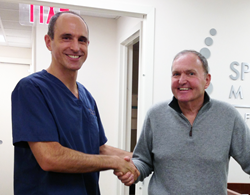 I was shocked when I heard the news. I was both inspired and humbled at the same time. I had finally found a treatment that I could use in my other patients who failed the standard treatments used for chronic back pain. -Andre Panagos M.D.
New York, NY (PRWEB) November 11, 2015
Spine & Sports Medicine of New York physician Andre Panagos M.D. reports his discovery of a new treatment called platelet-rich plasma fascial infiltration to resolve a patient's crippling chronic back and leg pain after over 50 years of suffering.
Richard's rebirth occurred in early 2014, when he returned to a life that many of us take for granted. The new platelet-rich plasma fascial infiltration was so successful that he said, "my friends could not believe it when I beat them to the bus stop." He was no longer fearful that light yard work or even walking several steps would result in weeks of bed rest and repeat anti-inflammatory injections in the emergency room. It is a second chance that he only describes as a "miracle".
Chronic back pain disrupts the lives of millions of people in the United States each year and is considered a growing epidemic. It is one of the most prevalent musculoskeletal disorders in developed countries, affecting up to 85% of the adult chronic pain population. Unfortunately, a precise diagnosis cannot be determined in over 80% of these patients. Therefore, treatment is based on the classic step-wise approach starting with physical therapy and ending with surgery. For those patients who do not improve, chronic pain management is the only remaining option.
Richard saw top physicians at major medical centers throughout the country, took high doses of pain medications, was a frequent visitor to emergency rooms, endured many procedures and surgeries that provided limited improvement. He even developed cardiac problems from the unrelenting severe pain.
Platelet-rich plasma fascial infiltration is the result of major advances in musculoskeletal sonography, regenerative medicine (platelet-rich plasma) combined with good old-fashioned detective work. The breakthrough is in the precise infiltration of growth factors found in platelet-rich plasma to within millimeters of a long overlooked structure in the lower back called the thoracolumbar fascia. It has never been thought of as a major source of back pain, especially since it is not seen on x-rays, MRI or CT scans. Unfortunately, there is no imaging test available that can determine injury to the thoracolumbar fascia. Pre-procedure guided injections are used to identify the site of pain. Once placed, the growth factors have the capability to restart the healing process of local tissues and nerves, even decades after the original injury. Richard was surprised by the complete disappearance of his pain within 3 months.
Richard's remarkable recovery after over 50 years of suffering suggests chronic back pain is a treatable condition. Chronic back pain does not have to be a life sentence. This new and novel approach has the potential to help millions of Americans who are suffering or disabled from chronic back pain.
For more information on Richard's story, please visit the full case report
About Andre Panagos M.D.
Andre Panagos M.D. has an international reputation as an expert in physical medicine and rehabilitation as well as spine and sports medicine and is the recipient of multiple awards. As a broadly published author, Dr. Panagos has contributed to several specialty groups including the American Academy of Physical Medicine and Rehabilitation, where he acts in the capacity of chairman of the program planning committee and as a member of the medical education committee. He is currently a clinical assistant professor of rehabilitation medicine at New York University School of Medicine.