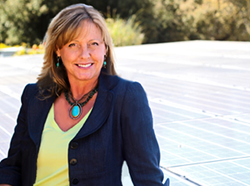 while the window is still open, my team and I are rolling full-speed ahead to help as many non-profits as possible
Murrieta, CA (PRWEB) October 31, 2015
"For years, I have made it a point to reach out to the philanthropies that are close to my heart," said Kelly Smith, president of Ambassador Energy. "While I have known that solar can really work for them, my style is pretty laid back and I never wanted to pressure the great folks who run these non-profits. However, now that the potential sunset of the federal incentive is looming, the gloves are off. While the window is still open, my team and I are rolling full-speed ahead to help as many non-profits as possible."
The Ambassador Solar Energy team takes a specialized approach to facilitating solar solutions for houses of worship, philanthropies, municipalities and civic organizations, which, due to their tax status, traditionally cannot take advantage of tax credits associated with solar. Ambassador has crafted a process with strategic partners, whereby the tax credit is passed down, so that the non-profits can immediately receive cost reductions and look forward to full ownership of the solar systems within a reasonable amount of time.
"I am making it my personal mission," continued Smith, "to exhaust all resources to reach as many non-profits as humanly possible. The days of indecision are over, and I feel personally and ethically compelled to push them to make decisions prior to the point where the opportunities are gone. It is really important to me and to our entire staff at Ambassador Energy. It is now a mad dash, and the non-profits, who are able to capitalize on it, will be the winners."
For entities to know whether solar will work for them, they simply provide the Ambassador Energy non-profit team copies of their utility invoices. From that data, with sophisticated software and high-definition satellite imagery, the Ambassador team can complete a feasibility study, determine the size and costs of a system, and if appropriate, engage their finance partners to run the numbers. Only when it makes good financial sense does the team ask to present to the Boards of Directors.
"I'll be honest," Smith said, "solar is not a fit for every situation. But, one never knows until we do the due diligence. As a serious component of the Ambassador Energy culture, we commit, with no cost or obligation to putting the time and energy into the process, so that our non-profit friends know for themselves."
About Ambassador Energy (AE)
Since 2008, providing solar solutions for commercial, non-profit, residential and agricultural customers. IREC-accredited training provider with staff certified as NABCEP PV Installers and NABCEP PV Technical Sales.* CSLB #928112: General Contractor B, C10 Electrician and C46 Renewable Energy, providing design and installation of solar PV and solar training throughout the U.S. *fulgham/kelso