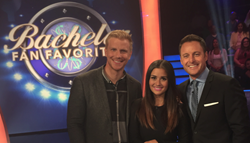 Dallas (PRWEB) November 02, 2015
Today, Micaela's Army Foundationbah announced that The Bachelor couple Sean and Catherine Lowe will compete on "Who Wants to Be A Millionaire" on behalf of the charity. The episode will air tonight, November 2 at 5:00 p.m. CST on channel 21 locally in Dallas (check your local listings for the appropriate channel). For more information on Micaela's Army Foundation, visit http://www.micaelasarmyfoundation.org.
Micaela's Army Foundation is a non-profit organization that was created after 18 year old Micaela White fearlessly fought her battle against leukemia. Micaela's mother, Sharon White, founded the foundation in her honor to help provide support to pediatric, adolescent and young adult cancer patients and their families as well as fund cancer research. Sean Lowe became associated with Micaela's Army through Micaela and her friends' obsession with The Bachelor. Read more in Lowe's blog post about his first experience with Micaela's Army Foundation.
"Catherine and I love games and trivia so being invited to play on the game show was exciting, but the most exciting part was that we played for a charity that is near to my heart," said Sean Lowe. "After hearing Sharon tell her story of losing her beautiful daughter and how she wants to help families going through the same fight, I knew I wanted to help somehow."
Micaela's Army Foundation has donated over $70,000 since it became an 501(c)(3) in June of 2014 towards research and family support for pediatric, adolescent and young adult cancers.
To make donations directly to Micaela's Army Foundation:
Micaela's Army Foundation
6505 West Park Blvd
STE. 306 #318
Plano, TX. 75093
Keep up to date with Micaela's Army Foundation on Facebook, Twitter and Instagram.
About Micaela's Army Foundation
Micaela's Army Foundation's mission is to raise and donate money to help fund cancer research, education awareness and patient support for over one dozen cancers that affect children, adolescents and young adults and their families.
Micaela's Army Foundation: Be Strong, Be Blessed!