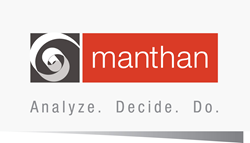 Big Data analytics is a major focus area for us and we are committed to bring the advantage of powerful customer analytics to the organizations who have heavily invested in it
Palo Alto, CA (PRWEB) November 03, 2015
Manthan, a global leader and innovator in analytics has extended its big data capabilities with a hybrid approach to data management. The hybrid data architecture that drives its analytics applications will make it easy and economical for businesses to use all of their structured and semi-structured customer data to gain accurate insights.
As customers use multiple channels and devices to engage with a business, the ability to piece together every interaction to build a granular as well as holistic picture of the customer becomes harder. Currently most analysts do not have the means to piece together structured and semi-structured information as it lies in different systems and in different formats. Even businesses that use Big Data technologies need to transform semi-structured data and load into structured databases for holistic insights. This increases the cost of storage and the time to insights.
Manthan, the Chief Analytics Officer to more than 200 global businesses, has adopted a hybrid data architecture to combine the data from structured columnar databases with data stored in Hadoop systems without replicating the data. "Manthan's Customer360 accesses the data in Hadoop through Hive and joins the result with relational data sets to respond to the analysis requests. All this happens in a transparent manner" says Atul Batra, CTO Manthan.
Manthan's big data solution empowers the marketer to achieve a single view of data by harmonizing structured and unstructured data from external and enterprise data sources. "The ability to join low density voluminous data stored in Hadoop and real time streams with columnar data stores has opened up the opportunity to understand the customer context better and make timely and relevant recommendations" adds Atul Batra.
Manthan is committed to pre-empt the needs of its customers using technology. The support for hybrid datawarehouses is one of the major milestones in the series of Big Data analytics innovations from Manthan. "Big Data analytics is a major focus area for us and we are committed to bring the advantage of powerful customer analytics to the organizations who have heavily invested in it", says Anand Sri Ganesh, Chief Product Officer, Manthan. "We have cut down technology barriers and give business and technology users ease of querying irrespective of the nature of datawarehouse, be it Amazon Redshift or Hadoop. With this architectural innovation, we enable solving of multiple use-cases, minimize data duplication, all while keeping the overall cost of datawarehousing under control", he added.
------------------------
About Manthan :
Manthan is the Chief Analytics Officer for consumer industries worldwide. Manthan's portfolio of analytics-enabled business applications, advanced analytics platforms and solutions are architected to help users across industries walk the complete data-to-result path - analyze, take guided decisions and execute these decisions real-time. Sophisticated, yet intuitive analytical capability coupled with the power of big data, mobility and cloud computing, brings users business-ready applications that provide on-demand access and real-time execution - the only path to profit in a contemporary, on-demand and connected economy. Manthan is one of the most awarded analytics innovators among analysts and customers alike .To see how your business can gain from analytics, visit manthan.com.
Reach out to Manthan on Twitter, Facebook or LinkedIn.