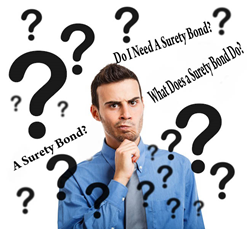 Surety bonding can be made easier with the help of a professional surety agent
San Clemente, CA (PRWEB) November 04, 2015
What Is A Surety Bond? When is one needed? What Does A Surety Bond Do?... These are all very common questions that are often given many complicated answers. This article provides the tools to make it a lot easier to both understand what surety bonds are and how to get the surety bond that you need.
First of all, nearly all surety bonds are business related. Surety bonds are not a consumer product and not every business is required to have one. A surety bond is a form of guarantee backed by an insurance company. The surety bond qualifies businesses to get a contract (bid bonds, performance bonds and payment bonds), get a business license (license bonds such as; Contractor license bond, Motor Vehicle Dealer license bond, Mortgage Broker license bond, Immigration Consultant bond, etc.) or qualify to be in business (Sales Tax bond, Wage and Welfare bond, Utility Deposit bonds, Lease Guarantee bond, etc.).
All the bonds described above provide a guarantee to the entity (Government or Private) that is requiring the bonds. None of the surety bonds listed above provide any protection for the applicant. In fact, on all the surety bonds listed (and most others) the applicant actually provides the insurance company with guarantees that should there be a claim the applicant will both pay the claim and cover any expense incurred by the insurance company.
See the popular animated video, What Is A Surety Bond?, that provides even more detail on the concept of surety.
As discussed, a surety bond is business related and most surety bonds do not cover the applicant, only the entity requiring the bond. The exception to the rule is a Fidelity/Dishonesty bond. While not a requirement, most smart business owners purchase this inexpensive surety bond product. The fidelity bond is for the benefit of the applicant company and these bonds provide a level of coverage against internal theft or theft of a client's property. These bonds are easily purchased and important for firms that handle cash or provide services that put employees into their customers' homes or businesses.
Understanding surety can be made easy by seeking a professional surety agent to deal with. A business can always find a list of qualified surety agents at the National Association of Surety Bond Producers website, NASBP.org. It is highly recommended that a surety agent be a member of this organization.