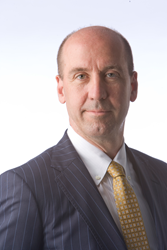 As a futurist I have the luxury of stepping back and looking at the big picture.
Memphis, TN (PRWEB) November 03, 2015
Global futurist Jack Uldrich wants businesses to start thinking about their future with "The Big AHA" in mind. Uldrich, the best-selling author of "Foresight 20/20" will be presenting seven keynote speeches, many of which will address "The Big AHA," (which is his acronym for Awareness, Humility and Action,) across the U.S. throughout the month of November.
A renowned business trend expert, Uldrich is the author of eleven books additional books, including: "The Next Big Thing is Really Small: How Nanotechnology will Change the Future of Your Business"; and "Jump the Curve: 50 Strategies to Help Your Company Stay Ahead of Technology".
His schedule for speaking during the month of November is currently as follows:
Nov 03, 2015
Invesco • San Diego
Nov 04, 2015
Private Financial Investment Firm • Boca Raton, FL
Nov 05, 2015
Saint Gobain Performance Plastics Corp. • Cleveland, OH
Nov 07, 2015
Southern California Public Power Authority • Anaheim, CA
Nov 13, 2015
American Forest & Paper Association • San Antonio, TX
Nov 14, 2015
InvesTex Credit Union • Houston, TX
Nov 18, 2015
Chatanooga Chamber of Commerce Spirit of Innovation Awards Luncheon • Chatanooga, TN
A regular guest on CNBC, MSNBC and CNN, and contributor on emerging technologies and future trends for a number of publications, including The Wall Street Journal, Forbes and BusinessWeek, Uldrich is hailed as one of the world's leading futurists.
His November engagements will range from "Vuja De: A Futurist Takes a Backwards Stroll into the World of Tomorrow," "The Big AHA: How the Internet of Things & Big Data Will Revolutionize Your Business," "From Exponential Technologies to Exponential Innovation," and "How to Future-Proof Your Business Against Tomorrow's Transformational Trends."
A frequent speaker on the technology, change management and leadership lecture circuits, Uldrich has addressed numerous businesses, trade associations, educational and investment groups around the world, including IBM, Cisco, USAA, General Electric, Wipro, PepsiCo, United Healthcare, SouthernCompany, Novo Nordisk, Verizon, General Mills, Pfizer, and the U.S. Chamber of Commerce. He custom designs his speeches and has been quoted as setting "a tone of optimism and creativity" for each group he encounters.
Parties interested in learning more about Jack Uldrich, his books, his daily blog or his speaking availability are encouraged to visit his website.