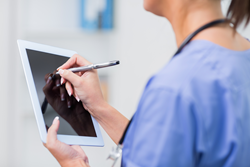 You'll see nearly all of the clinical, executive and divisional directors walking around with the bed management views on their iPads, and the same with the bed management staff
Adelaide, South Australia (PRWEB) November 04, 2015
Alcidion Corporation, a leading health informatics company based in Adelaide, has launched their mobile EMR application, Miya Mobile.
Hospitals and health systems are struggling to cope with increasing demand and are increasingly under pressure to deliver services more efficiently. Clinicians are under significant time pressure and spend a substantial amount of their time collating data from various clinical information systems and duplicating data entry across various forms.
Mobile Miya consolidates all of those data sources, selectively processing the highest quality and most clinically appropriate data, and when parts are missing from those sources, matching them together to provide an extremely high quality electronic health record and accessible directly from mobile devices.
The application provides access to patient flow data, test results and electronic assessment forms so that clinicians can refer to and collect this information at the point of care.
One of Miya's main differences is it can extract data from any clinical, administrative or logistics system in a hospital, including point-of-care devices, and marshal that data in a way that add value to a clinical decision that needs to be made for a patient.
Miya Mobile can guide best practice care, then assist clinicians to efficiently document their decisions, and then monitor for care completion.
"You'll see nearly all of the clinical, executive and divisional directors walking around with the bed management views on their iPads, and the same with the bed management staff, the quality managers, the NUMs and any staff that help move the patients around," explains Jason Whakaari, Executive Director of ICT at Western Health, on the Miya Mobile module.
"Miya Mobile enables clinicians to access patient information at the point of care. The module delivers patient information at the bedside and reduces the time it takes for clinicians to find the relevant data," explains Leanne Dillon, Vice President Clinical Engagement at Alcidion.
"Miya Mobile has resulted in significant time savings and a streamlined workflow as there is no longer a scrum to access scarce PC's across the hospital," explains ACIS Senior Business Analyst at NT Department of Health.
"Clinicians now have timely access to lab results, radiology reports and images by the bedside, all in the one application," he added.
Miya Mobile is currently operational at Footscray, Sunshine and Williamstown Hospitals in Victoria, along with the Royal Darwin and Alice Springs Hospital in the Northern Territory. The NT Department of Health has just ordered another 100 iPad Airs to roll out Miya Mobile to their medical and surgical doctors across the Alice Springs and Royal Darwin hospitals.
### ENDS ###
For further information, please contact:
Ashleigh Wilby, Marketing Manager
Tel: 08 8208 4620
Alcidion Corporation
ashleigh(dot)wilby(at)alcidion(dot)com
Nathan Buzza, Executive Vice President
Tel: 08 8208 4600
Alcidion Corporation
Nathan(dot)buzza(at)alcidion(dot)com
About Alcidion
Alcidion Corporation is an innovative health informatics company that specializes in clinical products that improve productivity, safety and efficiency. Alcidion's solutions target key problems for Emergency Rooms, Inpatient Services and Outpatient Departments and are built upon a next generation health informatics platform, which incorporates an intelligent EMR, Clinical Decision Support Engine, Data Integration Capability, Smartforms, Terminology Support and Standards Based Web Services.
Alcidion's focus is on delivering solutions that enable high performance healthcare and which assist clinicians by minimising key clinical risks, tracking patient progress through journeys and improving quality and safety of patient care.
http://www.alcidion.com© Alcidion Corporation 2015. Alcidion and Miya are registered trademarks. All other brands and product names and trademarks are the registered property of their respective companies.