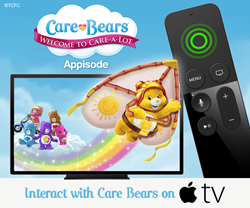 "With the emergence of new viewing platforms like the Apple TV, viewers have many more ways to experience a story and take part in the narrative."
Palo Alto, California (PRWEB) November 02, 2015
Plumzi and American Greetings Entertainment announce today that a free Care Bears™ Appisode, "Care Bear-A-Thon," is now available from the App Store for Apple TV. Fans of Care Bears can interact with their favorite characters on Apple TV as they progress through the story using the touch surface and motion-sensing capabilities of the Siri Remote.
In this engaging new experience on Apple TV, kids are able to use their remote to help Funshine Bear pedal faster by spinning the remote (making users feel as if they are holding onto the pedal of his bike), draw their name on Funshine's notepad by scribbling on the Siri Remote touch surface, and help Tenderheart Bear meditate by swiping on the touch surface to play music with the harp. With dozens of interactions uniquely designed for the Apple TV and new Siri Remote, the viewing experience becomes a truly immersive television experience -- empowering viewers with the remote.
"The linear TV format as we know it was invented for what television sets could do 80 years ago, i.e. play images and sounds only," said Guillaume Cohen, CEO of Plumzi. "With the emergence of new viewing platforms like the Apple TV, viewers have many more ways to experience a story and take part in the narrative. As one of the most iconic preschool properties in the marketplace, Care Bears is a natural fit to bring this innovative format to new fans."
Plumzi's platform is currently used by most top-tier animation studios in the U.S. to produce appisodes for publishing on the App Store. With the addition of both Apple TV support and appisode streaming capability to the Plumzi platform, studios can now bring their shows to the living room in an innovative format that leverages the interactive capabilities of new set-top boxes like the Apple TV and Siri Remote. Studios can extend their shows' presences beyond linear TV, delivering on expectations from new generations and deepening the bond between their fans and their character brands.
"Plumzi is a premier appisode technology platform, and we are very proud of our collaboration on this first-to-market innovation starring the Care Bears," said Sean Gorman, President of American Greetings Entertainment. "The 'Care Bear-A-Thon' appisode for Apple TV is an exciting and immersive experience for Care Bears fans of all ages." The appisode can be found on the App Store for Apple TV at https://itunes.apple.com/us/app/care-bears-appisodes-care/id1019189927?mt=8.
About Plumzi
Plumzi is enabling the future of TV by giving studios a third storytelling dimension – "participation" – to leverage in their creative process, in addition to traditional pictures and sound dimensions from linear TV. Plumzi's platform allows studios and creators to author and stream interactive "appisodes," a new form of entertainment on tablets, smartphones, smart-TVs, and – soon – Virtual Reality headsets. Appisodes enable viewers to interact with characters and help drive the story via touch, voice, tilt, connected toys, motion-enabled remotes, and more.
The world's leading animation studios – including Nickelodeon, Cartoon Network, DreamWorks, Warner Bros., Saban Brands, American Greetings Entertainment, and others – already rely on Plumzi's technology platform to not only adapt and monetize their animated series as appisodes, but also to expand their new show narratives beyond linear TV with a native appisode component.
Plumzi is headquartered in Palo Alto, CA, and funded by Silicon Valley VCs, along with strategic investors including The Walt Disney Company, Turner Broadcasting, Fuji TV, KDDI, and prominent angels like Bobby Yazdani (early investor in Google, DropBox, Uber, etc), Eric Kessler (former HBO president), and Stu Snyder (former Cartoon Network president). Plumzi is a winner of Disney's 2012 Innovation Challenge and a 2013 graduate of Media Camp, the accelerator program by Turner Broadcasting and Warner Bros.
About Care Bears
First introduced by American Greetings in 1982 through consumer products, greeting cards, and later an animated CGI television show, Care Bears has become one of the world's most popular and endearing children's properties. Today, fans of all ages around the world are falling in love with these huggable bears who help kids have fun while sharing and caring, and they enjoy a robust portfolio of thousands of Care Bears licensed products at retailers globally.
The Care Bears are no strangers to television screens. They first appeared in their own television specials in 1983 and 1984, and then made the leap to the big screen in 1985-87 with "The Care Bears Movie" trilogy. They also had their own television series from 1985 to 1988 which is currently available to watch on Netflix. In November, AGP announced a new original kids series starring the whole huggable gang with a new show titled, "Care Bears & Cousins." "Care Bears & Cousins" is co-produced by Netflix and will premiere around the world in fall 2015. The brand also has a robust social media following, has more than 5 million views of new and classic videos on YouTube, and has a portfolio of popular apps for mobile devices. Their wholesome messages of caring and sharing resonate with parents who are familiar with the brand and feel comfortable introducing Care Bears to their own children.
About American Greetings Entertainment
AG Entertainment (AGE) is the intellectual property, entertainment and outbound licensing division of American Greetings Corporation, which was built upon the successful re-launch of Care Bears™ and other iconic kids' entertainment brands, including Holly Hobbie™ and Madballs™, as well as Boofle™, Packages from Planet X™, Twisted Whiskers™, and its newest IP, Buddy Thunderstruck™ AGE develops multi-platform entertainment franchises across all media channels, and extensive consumer merchandising programs that immerse children and adults in brands they love. Experience AGE online at http://www.agkidzone.com.
Keep up with the latest on Care Bears: http://www.CareBears.com
Find Care Bears on Facebook: http://www.facebook.com/CareBears
Follow Care Bears on Twitter and Instagram: @CareBearsFriend
See Care Bears on YouTube: http://www.YouTube.com/CareBears
Check out Care Bears on Pinterest: http://www.pinterest.com/CareBearsAGP