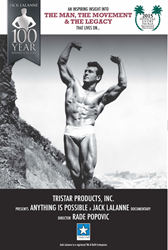 "If man made it, don't eat it." Jack LaLanne
Fairfield, NJ (PRWEB) November 03, 2015
The full-length documentary on the man many call the "Godfather of Fitness," directed by Rade Popovic, is scheduled to premiere on The Jack Lalanne Show channel on the Roku platform November 3rd, 2015.
"Jack LaLanne was a true pioneer in the nutrition and fitness industry. He was the guru of total health—an American icon who shared with millions his wisdom regarding not just food and exercise, but overall well-being—which was, for his time, unheard of," explains Keith Mirchandani, the documentary's executive producer and CEO of Tristar Products, Inc. "We partnered with Jack because we share his vision of wanting to give Americans the opportunity to benefit from the same nutritional practices he used every day of his life. Since we launched the Jack LaLanne Juicer over 10 years ago, it has been a top-selling product as well as a true milestone for the health and wellness industry. Now, when people think juicing, they think Jack LaLanne."
"ANYTHING IS POSSIBLE: The Man, The Movement, and The Legacy" narrates the life of famed bodybuilder, entrepreneur, and TV personality Jack LaLanne. The mastermind behind the exercise and health food industry, he is considered the "First Fitness Superhero" by the leaders in the health and wellness industry. LaLanne published numerous books on physical well-being and hosted the fitness program The Jack LaLanne Show, which aired for 25 years.
A true visionary, he introduced the world to the unheard of ideas of juicing as well as a whole-food only diet; he was famous for cautioning his followers: "If man made it, don't eat it." LaLanne was also known for his recording-breaking feats of physical strength and endurance.
At age 45, he completed 1000 pushups and 1000 chin-ups in just one hour and 22 minutes; at age 54, he famously beat then 21-year old Arnold Schwarzenegger in an informal contest. At age 70, LaLanne towed 70 boats filled with 70 people each for a mile and a half while shackled and handcuffed.
"We were so honored to be able to produce Jack LaLanne's documentary last year to celebrate what would have been his 100th birthday. So it's very exciting now to be able to think that it will be available on the Roku platform," said Lucille DeHart, the documentary's Producer and CMO at Tristar Products. "Jack not only became the authority in his industry—he created the industry. It's really nothing short of amazing," she continues. "There was no real focus on health at all in 1954, when The Jack LaLanne show first aired. He truly changed the way we think about what we eat and how we exercise. Now millions of Roku customers will be able to watch his amazing story. Even in 2015—how we look at food, how we're taught to work-out— It all came from one man: Jack."
Roku customers can find the Jack LaLanne Show channel within the Fitness category in the Roku Channel Store.
ABOUT TRISTAR PRODUCTS
Tristar Products Inc. is the recognized pioneer of taking innovative ideas and creating #1 brands worldwide. Dedication to high standards of quality manufacturing makes Tristar Products, Inc. an internationally respected infomercial market leader. With well established brands, proven international and domestic distribution channels, media power in over 100 countries and quality manufacturing that attracts celebrity endorsements, Tristar Products Inc. has exceeded over a billion dollars in sales. Tristar Products, Inc. is an Inc. 5000 company. http://www.tristarproductsinc.com
http://www.anythingispossiblemovie.com
http://www.Roku.com
Roku is a registered trademark of Roku, Inc. in the U.S. and in other countries.
Jack Lalanne is a registered trademark of BeFit Enterprises.