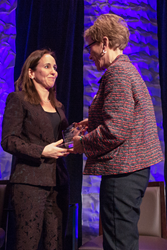 Denver, Colo. (PRWEB) November 03, 2015
The LENA Research Foundation named Dr. Dana Suskind of the University of Chicago as 2015 recipient of the Terry Paul "Making a Difference" award, on Monday afternoon at the foundation's conference on early language, titled "Parents Have the Power." The honor recognizes her efforts to close learning gaps by improving babies' brain development through focus on language during the first 24-36 months of life. Dr. Suskind also presented the conference keynote speech today on the topic, and recently published a best-selling book: Thirty Million Words: Building a Child's Brain.
Dr. Suskind became involved with early language through her work as a cochlear implant surgeon, helping children born with serious hearing impairment. In 2009, she began using LENA System™ "talk pedometer" technology as an aid to post-operative speech therapy. She discovered that feedback to parents significantly improves the babies' language development, so she began using a similar approach with families near the University hospital whose children had normal hearing, but whose brain development was vulnerable to the effects of poverty. Positive results led to the creation of the "Thirty Million Words Initiative."
The reference to 30 million words reflects research by Drs. Betty Hart and Todd Risley, showing that poor children during their first three years of life may hear as many as 30 million fewer words than more affluent children, impeding brain development. The publication of Hart and Risley's book, Meaningful Differences, in 1995 generated decades of research into this effect, directly led to the creation of the LENA Research Foundation, and is a theme of the current conference, which runs through Tuesday.
Presenting the award to Dr. Suskind, Dr. Stephen Hannon, president of the LENA Research Foundation, remarked: "This award recognizes outstanding leadership, contribution, and collaboration furthering LENA's mission of nurturing minds and changing lives. Dana Suskind has contributed not only as a pioneer in the use of LENA System technology, but also as a passionate and articulate advocate for the power of parents and their critical role in closing the achievement gap."
The "Parents Have the Power" conference is attended by 200 experts in diverse fields including brain science, psychology, social work, pediatrics, literacy, philanthropy, early learning, and public policy. It will close on Tuesday with presentations on the talk gap as a public health crisis, and how to fund and scale programs that offer solutions.
The conference has also featured the Foundation's parent-directed intervention model, LENA Start™, which combines parent feedback from LENA's "talk pedometer" technology and group parenting classes that help caregivers improve early language. In creating LENA Start, the foundation factored years of research and experience partnering with interventionists in programs like the Thirty Million Words Initiative, and LENA's own pilot programs in Colorado. LENA Start aims to reach a broad cross-section of needy families through a cost-effective model with high return on investment.
####
About the LENA Research Foundation
The LENA Research Foundation is a 501(c)(3) public charity based in Boulder, Colorado. Its mission is to accelerate language development to improve the cognitive, social, and emotional health of children birth to five and close achievement gaps. The LENA System™, developed at a cost of more than $40 million contributed by co-founders Terrance and Judith Paul, measures a child's language environment and provides vital feedback to parents and professionals, and is used by researchers and clinicians all over the world. The foundation's LENA Start™ parent-directed intervention program uses LENA feedback and group parenting classes to help improve the home language environment for at-risk children birth to 3. For information, contact Beth Dresser at 303-441-9048, or email bethdresser@lenafoundation.org.