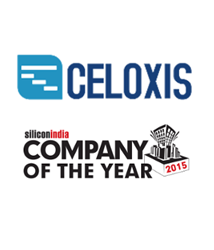 It is very important that the software adapts to the business environment & not the other way around. That's how you provide true value to customers. Getting this award from SiliconIndia only reconfirms our vision for the product & commitment to our users
Pune, India (PRWEB) November 04, 2015
The drive to be more productive is a quality that's shared by most companies in a very competitive business world. Using the right project management tool can give a huge boost in this area. Since 2001, Celoxis has been a leader in the project management software space. Recently, the company celebrated being awarded the very prestigious "Company of the Year – Integrated Project Management Software 2015", from premier business and technology magazine SiliconIndia reaffirming the software's status not just with very satisfied users, but also with the top professionals in the industry.
"We are honored to receive recognition and distinction for our project management platform that is helping companies succeed," commented Ravindra Wankar, co-founder of Celoxis. "If you understand where your customers are coming from, what they are looking for and how your product is positioned you will have a better chance to help them to get value out of your product and become more successful."
Nikhil Daddikar, the other half of the team who founded the company, remarked, "It is very important that the software adapts to the business environment and not the other way around. That's how you provide true value to customers. Getting this award from SiliconIndia only reconfirms our vision for the product and commitment to our users."
SiliconIndia is ranked the #4 magazine in the IT and Business News category. The 2015 awards from the magazine were judged by a distinguished panel of the industry's topmost CEOs, CIOs, VCs, and analysts, who joined the SiliconIndia Editorial board to come to the decision. Research and observations were captured through the entire year and eventually discussed and finalized.
Celoxis is an all-in-one online project management software. Over 2000 of the most respected brands in the world happily use the platform, including HBO, Bombardier, University of Washington, The Supreme Court of Ohio, KPMG and Bank Mandiri, the largest Indonesian bank. The list is constantly being added to as well.
Feedback from users of the project management tool continues to be very passionate across the board.
Elizabeth Harrin, author of 'A Girl's Guide to Project Management' recently said, about Celoxis, "What I liked most is that it's a tool that lets you keep everything in one place, but without feeling like it's preventing you from using anything else. Celoxis is a mature product that would suit a PMO looking for stable, enterprise-class project management tool."
For more information be sure to visit http://www.celoxis.com.