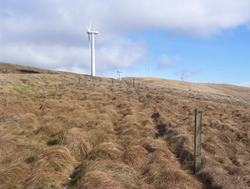 (PRWEB UK) 2 November 2015
Fred. Olsen Renewables has awarded the contracts for the supply of wind turbines and balance of plant on its Brockloch Rig Wind Farm development (otherwise known as 'Windy Standard II'), located at Carsphairn Forest in Dumfries and Galloway.
Senvion has been selected to supply 30 of its 2.05MW turbines, while balance of plant works will be provided by Scotland based Galliford Try Limited.
David Brunt, CEO, Fred. Olsen Renewables said: "We have been involved with Brockloch Rig Wind Farm since the beginning, through site selection, planning and construction, in line with our strategy to manage the full lifecycle. It is a key site in our UK portfolio which opens up a new geographical area for us and we are pleased that things are progressing well as we now move towards construction."
Brocklock Rig Wind Farm is located near the village of Brocklock in Dumfries and Galloway, Scotland, and is close to the existing Windy Standard Wind Farm which was originally developed by RWE npower renewables and Fred. Olsen Renewables. It is expected that Brocklock Rig Wind Farm will be fully commissioned in early 2017.
Brochlock Rig Wind Farm is wholly owned by Fred Olsen Renewables. For more information, please visit http://www.fredolsen-renewables.no/brockloch-rig-overview
About Fred Olsen
Fred. Olsen Renewables has been developing and operating wind farms since the mid 1990's demonstrating long term commitment to the Scottish and UK and Scandinavian renewable energy generation market. The company's UK operational wind farm portfolio comprises Rothes I and Rothes II (combined capacity 91 MW), Pauls Hill (64.4 MW), Mid Hill (75.9 MW) and Crystal Rig I and Crystal Rig II (combined capacity 200.5 MW) with a total generating capacity of 432 MW.