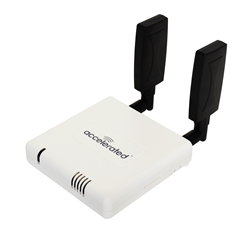 Retailers often generate as much as 50% of their annual sales during the holiday season. With unoccupied retail space available in many locations, temporary 'pop-up' stores are the perfect strategy to dramatically increase revenues for the year
Tampa, Florida (PRWEB) November 04, 2015
Accelerated provides an LTE WWAN connectivity solution that major retailers can deploy during the holiday season at temporary 'pop-up' stores (such as in shopping malls, empty strip center space, etc.). Pop-up stores allow retailers to increase holiday revenue. One challenge faced with the 'pop-up' store model is getting a reliable network connection (for POS) to the temporary location. Retailers needed a simple, distributed solution for connectivity that works within all store limitations and is consistent across all store locations.
Accelerated's Cellular Extender provides multiple carrier options depending on location with an ability to extend the cellular connection with power of Ethernet (if needed). The 6300-CX is easy to deploy within store limitations (no cable runs, single truck roll) and easy to manage centrally from the retailer's corporate location with Accelerated View.
Jason Dorough, VP of Sales at Accelerated said: "Retailers often generate as much as 50% of their annual sales during the holiday season. With unoccupied retail space available in many locations, temporary 'pop-up' stores are the perfect strategy to dramatically increase revenues for the year. Accelerated's Cellular Extender gives retailers an internet connectivity solution suitable for any store location while providing consistency and predictability in cost and setup for its distributed deployment." With the help of Accelerated's 6300-CX, retailer's can successfully capture new revenue during the holiday season and grow permanent store count with proven pop-up store locations.
About Accelerated - Connected Is Everything™
Accelerated is an innovator in global cellular, cloud and network communications, and offers industry-leading hardware and software solutions that expand primary and backup data connectivity and management capabilities. Since the creation of its flagship product NetBridge in 2006, Accelerated continues to innovate its line of cellular hardware, network management software and virtual private network (VPN) technology. Accelerated offers a range of Machine to Machine (M2M) and Internet of Things (IoT) communication technologies including its Dial-to-IP™ Converter and custom OEM solutions, in addition to its newest product, the 5400-RM Cellular Out-of-band (OOB) Remote Manager, a compact, high-performance, remote network management platform. All Accelerated products can be centrally managed using Accelerated View™ cloud-based network management software. Accelerated is headquartered in Tampa, Florida, with offices in Chicago and Brisbane, Australia. For more information, visit: Accelerated.com.