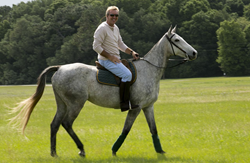 "There is tremendous opportunity for Cowboys to gain massive market share throughout the country, especially with the help of BG Capital Group's vast resources and the former Toby Keith store locations," said Genovese
Ft. Lauderdale, FL (PRWEB) November 03, 2015
Bringing cutting edge innovation and a modern twist to the country western bar and grill landscape, BG Capital Group's Florida-based Cowboys Saloon has widened expansion efforts into Arizona, New York, and Colorado with openings in locations once occupied by Toby Keith's I Love This Bar and Grill, announced BG Capital Group Chairman Bobby Genovese and Cowboys Saloon Founder, Anthony Perera.
The four new stores, which are slated to reopen next year, are located in the Park West Center in Peoria, AZ and City North Center in Phoenix, AZ; the Destiny USA shopping and entertainment complex in Syracuse NY; and the Northfield Stapleton shopping complex in Denver, CO.
"There is tremendous opportunity for a winning brand like Cowboys to gain massive market share throughout the country, especially with the help of BG Capital Group's vast resources and the former Toby Keith store locations that we are systematically moving our concept into nationwide," said Genovese.
"More than just a restaurant or bar, we are truly an entertainment destination that engages guests from the moment the walk in and keep them entertained until the moment they leave," added Perera.
Aggressive expansion of the award-winning Cowboys brand began with the opening of its first south Florida location in 2011. The casual dining, bar, and entertainment venue has since become a major player in live music and entertainment, receiving numerous awards for its entertainment excellence. In May 2014 Perera and Genovese opened a second location in downtown Ocala following a multimillion-dollar build-out, and its 3rd location in Gainesville last summer.
"Cowboys is now the number one entertainment spot and ultimate place for friends and families to gather and have fun in a classic western themed bar and American style restaurant that is modern and sophisticated," said Genovese of the dining and nightlife experience that combines Americana scratch kitchen eats, a large dance floor and ample room for hosting national artists in a rustic western decor setting. The average location ranges in size from 12,000-15,000 square feet with a seating capacity for over 200 people and a concert capacity for 1,000.
"We love where this brand is going," said Perera. "There is tremendous opportunity for a brand like Cowboys to gain massive market share and on that basis we plan to open 10-12 new stores in the next 24 months. It's an amazing entertainment experience and we are excited to bring our venues to such great cities."
For more information contact Cowboys Saloon Founder/Managing Partner Anthony Perera at anthony(at)cowboyssaloon(dot)com; http://www.cowboyssaloon.com, or, Leasing Agent Josh Rush at Starpointcommercial(at)gmail(dot)com.
About BG Capital Group
With more than 25 years of experience in mergers and acquisition, BG Capital Group Limited and BG Capital Management Corporation are both based in Barbados with associate management offices in the Bahamas, Fort Lauderdale and Boca Raton, Florida, Los Angeles, Toronto and Vancouver. In 2013, Genovese developed and launched BG Signature, a global portfolio of extraordinary destinations in the US, Canada, Europe, South America and Bahamas and private access VIP experiences division that spans the spectrum of events in sports, fashion, culture and more. A fleet of private yachts, private jet and four polo and equestrian clubs complete the collection.