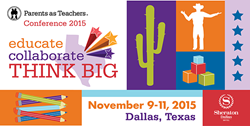 The annual event will focus on early childhood development and supporting parents and children through the crucial early years of life.
DALLAS, TX (PRWEB) November 02, 2015
Parents as Teachers will convene more than 1,200 early childhood development experts, educators, researchers, behavioral scientists, public policy advocates, and parent educators for its National Conference from November 9-11 at the Sheraton Dallas in Dallas, Texas. The annual event will focus on early childhood development and supporting parents and children through the crucial early years of life from birth through kindergarten.
"With compelling keynote speakers and 50 knowledge-building workshops, attendees will walk away with something new and insightful for them, their programs and the families they impact," said Scott Hippert, President and CEO, Parents as Teachers. "As always at our national conference, there will be opportunities to learn, connect, share, grow and rejuvenate."
Keynote speakers will be Maxine Clark, founder of Build-A-Bear Workshop and leader in the education arena; and William Mehojah Jr., past director of the Office of Indian Education Programs, who will commemorate the 25th anniversary of the Family and Child Education Program (FACE), a program he played a key role in creating to serve parents and children in Native American communities.
Panelists will share new insights and best practices on a wide range of topics that include:

The value of community resources to parenting
Unique needs of LGBTQ parents
Supporting children in poverty-stricken families
Supporting cultural needs of Native American parents
Reducing the infant mortality rate
Long term benefits of ensuring early milestones for grade level reading
Early identification of children with autism disorder spectrum
Partnering with public housing organizations and healthcare providers
Convening and creating strategic alliances for family success
Learn more about the 2015 Parents as Teachers Conference online at http://www.parentsasteachers.org and register.
About Parents as Teachers: Founded in Missouri in 1984, Parents as Teachers serves more than 240,000 children in all 50 U.S. states, more than 100 Tribal organizations, schools and communities, and six other countries. Its internationally recognized network of affiliates uses an evidence-based model to deliver parent education primarily through personal visits and group meetings, equipping parents with knowledge and resources to prepare their children, from birth through kindergarten, for a stronger start in life and greater success in school. Parents as Teachers programs operate in various settings, including schools, hospitals, faith-based organizations and housing communities. For more information, visit http://www.ParentsAsTeachers.org.