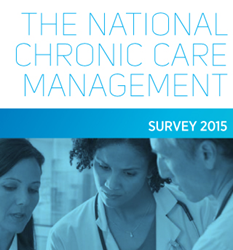 New Medicare reimbursement for CCM offers a bridge from volume-based to value-based reimbursement, as it provides fee-for-service revenue to support development of population health competencies
Knoxville, TN (PRWEB) November 03, 2015
There is significant interest in new Medicare reimbursement for chronic care management (CCM), with 26% of eligible providers having already launched CCM programs and another 23% intending to do so in the next 12 months. These early adopters, however, are struggling with (1) physician engagement, (2) patient education, (3) efficient processes, and (4) regulatory compliance.
These are some of the key findings of the National Chronic Care Management Survey 2015 released this week by PYA and Enli Health Intelligence. The survey offers new insights for providers and policy makers, as well as vendors offering products and services to support providers' CCM programs.
"New Medicare reimbursement for CCM offers a bridge from volume-based to value-based reimbursement, as it provides fee-for-service revenue to support development of population health competencies," said PYA Principal Martie Ross. "For a number of reasons, however, providers are finding it challenging to walk across that bridge."
"While many had hoped that Medicare would simplify the CCM billing rules to encourage greater participation, the agency took no such action in the 2016 Medicare Physician Fee Schedule Final Rule released on October 30," Ross continued. "Now, we need to address CCM challenges head on, to ensure patients suffering with chronic conditions have access to these vital services."
The survey report, now available on the PYA website, addresses provider attitudes, intent, and experience with CCM program deployment including:

Barriers and accelerators to adoption including program design, staffing, supportive technology, and participation in alternative payment models
The challenge of physician engagement and patient education
Actual time spent (in addition to the reimbursed 20 minutes), months billed, investments made, and expectations for economic return.
The survey results are based on 309 responses representative of 7,328 entities across enterprise and independently owned ambulatory clinics. The results achieved a 95% confidence level, with a confidence interval of +/- 5.5.
The National Provider Survey on CCM is the latest contribution to a growing library of resources from PYA, including the industry-leading white paper, Providing and Billing Medicare for Chronic Care Management, and subsequent Chronic Care Management Clinical Services Manual. Information for all of these and other reference tools, may be found on the PYA website.
PYA is a recognized industry leader in CCM support services, assisting organizations in developing effective and efficient CCM programs by translating complicated rules and regulations into practical, straightforward strategies. Enli Health Intelligence has been recognized by IDC Health Insights as the only healthcare IT company providing a complete technology solution for CCM.
** Special Note: Survey results to be presented in live Webinar on December 3 **
PYA and Enli will host a webinar on Thursday, December 3 to present the survey findings and their implications for healthcare providers. Those interested to attend can register at https://attendee.gotowebinar.com/register/5442622510147143681.
---
About Enli
Enli Health Intelligence™ is the market leader in population health management technology. Enli enables care teams to perform to their full potential by integrating healthcare data with evidence-based guidelines embedded in provider workflows across the population and at the point of care.
For more information, please visit http://www.enli.net.
Enli Media Contact
Enli Health Intelligence
Erik Simshauser, 1 503-858-6094
Vice President, Marketing
esimshauser(at)enli.net
About PYA
For over three decades, Pershing Yoakley & Associates (PYA), a national healthcare consulting firm, has helped clients navigate and derive value amid complex challenges related to regulatory compliance, mergers and acquisitions, governance, business valuations and fair market value assessments, multi-unit business and clinical integrations, best practices, tax and assurance, business analysis, and operations optimization.
PYA's steadfast commitment to an unwavering client-centric culture has served the firm's clients well. PYA is now ranked by Modern Healthcare as the nation's 9th largest privately owned healthcare consulting firm. PYA affiliate companies offer clients world-class data analytics, professional real estate development and advisory resources for healthcare providers, self-insured employer health insurance claims audits for Fortune 500 companies, wealth management and retirement plan administration, and business transitions consulting.
For more information, please visit http://www.pyapc.com/