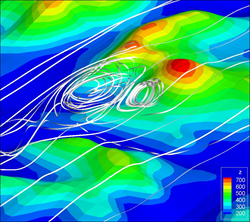 (PRWEB UK) 2 November 2015
As the technical team at Natural Power has been developing new models for more accurately predicting wind farm performance, investment in new high performance computing has enabled the business to produce results from its most advanced computational fluid dynamics (CFD) models at wind farm scale within five to six days, rather than the 60 days previously needed.
Claude Abiven, Senior Technical Manager at Natural Power, said: "Wind power has enormous potential, but there are multiple variables involved at each installation that will affect yield and, consequently, the financial viability of both new and existing sites. Typically our customers need an accurate picture of the likely output of the wind farms they are planning to build or buy so they can determine projected profit and hence the loan criteria. The more accurate the calculation is, the more attractive the terms for financing become – and the more easily wind power can be integrated into the overall energy mix."
"The improved speed creates an obvious commercial advantage. No client wants to wait 60 days for modelling outcomes. More significantly, it means we can increase certainty in our calculations, which can be directly translated in to cost savings. When the bill for a wind farm runs in to hundreds of millions, that's an important factor - and a potential game changer for the industry."
Simple linear wind-flow prediction models can run off a laptop computer, but more computationally intensive models are required when farms are located in complex or forested terrain or in the presence of complex atmospheres such as sea breezes. In these circumstances, linear wind-flow models provide a much less accurate picture. To overcome the limitations of existing techniques, Natural Power worked in partnership with the Faculty of Engineering at the University of Porto (FE-UP) in Portugal and Renewable Energy Systems (RES) to develop a more advanced CFD. While developing the model, Natural Power realised it would not be able to run effectively on its existing server.
Natural Power has selected a SuperMicro supercomputer powered by Intel Xeon processor E5-2660 v3. Internal assessments have shown that this runs 1.7 times faster than the previous installation. With greater computational power and more certain modelling, Natural Power is well positioned to take advantage of renewed growth in demand for wind powered energy generation.
Empowering wind generation worldwide
In 2014, the wind power industry set a new record for annual installations. According to the Global Wind Energy Council (GWEC), worldwide generating capacity increased by 51,477 MW to reach 369,553 MW. GWEC also suggests that wind power could supply between eight and 12 percent of global electricity by 2020.
Behind this increase in wind power installations is a complex series of calculations and analysis of potential performance. When planning new installations, investors, utilities and turbine manufacturers all need an accurate picture of what the energy yield will be, whether it will deliver an attractive return on its financing, and whether it will affect local populations and wildlife.
Natural Power helps its global wind power clients create and analyse this picture. It currently manages 26 percent of the UK's installed onshore wind capacity and is steering more than 50 wind farms through construction.
ENDS
About Natural Power
Natural Power is a leading independent renewable energy consultancy and products provider. The company offers proactive and integrated consultancy, management and due diligence services, backed by an innovative product range, across the onshore wind, offshore wind, wave, tidal, renewable heat, solar pv and hydro sectors, whilst maintaining a strong outlook on other new and emerging renewable energy sectors.
Established in the mid 1990s, Natural Power has been at the heart of many groundbreaking projects, products and portfolios for more than two decades, assisting project developers, investors, manufacturers, research houses and other consulting companies. With its iconic Scottish headquarters, The Green House, Natural Power has expanded internationally and now employs 320 renewable energy experts.