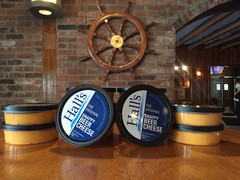 "The Kroger team is pleased to be the first grocer to bring Hall's Beer Cheese to Market" -- Vickie Oliver, Kroger Division Specialty Cheese Specialist.
(PRWEB) November 10, 2015
A month ago, Des Hague, Co-Founder of Aegis Enterprises LLC., announced an investment in Central Kentucky's Hall's Snappy Beer Cheese. This week, the company is delighted to announce that their signature and award-winning beer cheese is now available at 70 Kroger Super Centers in the Mid Atlantic Region of the US.
"We are thrilled that our product was sampled and quickly made available for the consumer," stated Karl Crase, owner of Hall's, before adding," it is a testament to the uniqueness and the high quality of the product."
"The Kroger team is pleased to be the first grocer to bring Hall's Beer Cheese to Market," said Vickie Oliver, Kroger Division Specialty Cheese Specialist.
"This is a very exciting time for the brand. The first Kroger order was delivered just this week and we look forward to getting this awesome product made available nationally soon and just in time for the busy sports season," stated Hague.
About Des Hague
A renowned executive with over twenty-five years of leading global public and private companies, Des Hague has established himself as an innovative thinker in the international business world. His forward-thinking approach pushes companies toward sustainable growth, granting them a position as resilient competitors within their respective industries. Hague most recently was the CEO and President of Centerplate, Inc, the largest event hospitality firm in North America (source: http://deshague.com). Hague also serves on the boards of DVETelepresence, PING HD, WC&A, Inc, and the Stamford Youth Foundation along with advising on several start-up ventures.
Along with his professional projects, Des Hague contributes significant amounts of time and energy to non-profit charitable work. Hague has helped raise more than $100 million over the past few years for many non-profits, including the Stamford Youth Foundation, a local organization offering multiple after-school programs for young people, and The Journey Home, a Baltimore-based Foundation fighting homelessness. Hague views AEGIS Enterprises, LLC. as a perfect blending of business and philanthropic activities.
For more about Des Hague, visit: http://deshague.com, http://deshaguereviews.com
Des Hague - LinkedIn : https://www.linkedin.com/in/deshague
Contact: DesHague.com
EMail: deshague(at)aegisenterprisesllc.com
About Hall's Snappy Beer Cheese
Beer Cheese. As the name implies, Beer Cheese is the combination of two of man's most important achievements: beer and cheese. Add in savory spices and a little heat and you have the iconic spreadable cheese developed in Central Kentucky over half a century ago. Hall's Snappy Beer Cheese is the original beer cheese that made this unique product famous. Celebrating its 50th anniversary in the marketplace in 2015, Hall's Beer Cheese has been enjoyed by the famous and infamous, from Royalty to rednecks, and everyone in between. The unique flavor of Hall's Beer Cheese begins with aged sharp cheddar cheese and finishes with a bit of spice that provides the "snap" to Hall's "Snappy" Beer Cheese. What started as a spicy treat enjoyed by Central Kentuckians dining by the Kentucky River has developed into an internationally recognized brand: Hall's Snappy Beer Cheese.
Become part of the tradition, try some today.
For more information about Snappy Beer Cheese: http://www.beercheese.com/, https://www.facebook.com/HallsOnTheRiver.