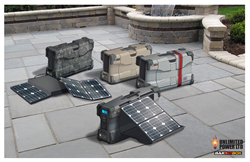 Fletcher, NC (PRWEB) November 03, 2015
Unlimited Power Ltd., a leading innovator in solar and alternative energy technology, design, engineering, and manufacturing, and creator of the world's lightest and most reliable portable solar power source, BakUpBox, today announced that the National Guard Association of the United States adopted a joint standing resolution, which will expand its role as the go-to source for mission-critical power needs by providing support for domestic missions.
"About once every four days, part of the nation's power grid — a system whose failure could leave millions in the dark — is struck by a cyber or physical attack."
-USA Today, March 24, 2015
The BakUpBox adheres to relevant Mil-Specs, and is engineered to power federal, state, and local government agency missions, disaster preparedness and recovery, EMS, and other first-responder duties.
"Power is everything, especially when you don't have it," said Unlimited Power Ltd., Founder and CEO, Chris Petrella. "The National Guard understands that when power is most needed they can always rely on the BakUpBox in any situation, anywhere, at any time."
BakUpBox is the only solar, military-grade portable power system in its class that is specifically equipped for mission-critical requirements:

The lightest of its kind, starting at only 11 pounds, it delivers over 1000 watts of power.
An indispensable lifesaving tool, BakUpBox is convenient and versatile to use anywhere continued power is needed and completely recharges in half the time of its nearest competitors.
BakUpBox is portable, reliable, and sustainable with built-in solar panels to quickly recharge in extended emergency or off grid situations.
Once charged, BakUpBox stores the energy, maintenance free, for up to 32 months. The battery lasts for 10 years and can be recharged 1,000 times.
Currently tested by the National Guard, FEMA, and a growing number of municipalities across the country, BakUpBox is in full compliance with the Trade Agreements Act (TAA), a fundamental requirement of many government contracts, and is easily available on a GSA contract to all federal government civilian and military agencies and departments. BakUpBox is proudly made in the USA by Unlimited Power Ltd. Learn more at http://www.bakupbox.com or http://www.unltdpower.com.
-More-
About Unlimited Power Ltd.
Unlimited Power Ltd. designs and manufactures, Made in USA, portable electrical power storage systems with proprietary technology that deliver lightweight, portable solar power storage suitable for the most severe situations. As an innovator in the Portable Power Technology segment of the hi-tech industry, Unlimited Power Ltd. is dedicated to providing military-grade wireless power that is light enough to carry by hand, yet robust enough to power the most demanding electrical applications. For more information, please visit http://www.bakupbox.com or http://www.unltdpower.com.