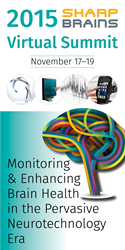 The Sharp­Brains Sum­mit is unique in its impres­sive abil­ity to unite a diverse col­lec­tion of cutting-edge thinkers in a vir­tual con­fer­ence that is shared glob­ally with­out a hitch.
Washington, DC (PRWEB) November 03, 2015
The 2015 SharpBrains Virtual Summit will feature over 30 of the world's top scientists and innovators working on ways to enhance brain health and brain fitness via lifestyle and emerging neurotechnologies.
"The SharpBrains Summit is unique in its impressive ability to unite a diverse collection of cutting-edge thinkers in a virtual conference that is shared globally without a hitch," says Dr. Adam Gazzaley, Director of the Neuroscience Imaging Center at UCSF.
The human brain is at the core of everything we do, from the every-day decisions we make while working or driving to the lifestyles that contribute (or not) to depression and dementia. And a growing range of neurotechnologies are poised to become ubiquitous, pervasive: especially those that, being digital, are scalable and relatively inexpensive, and that, being non-invasive, pose few if any negative side-effects. This is why individuals and institutions worldwide are spending over $1.5 billion a year in web-based, mobile and biometrics-based brain health solutions, and why non-invasive neurotechnology patent filings have been soaring since 2010.
How can consumers and professionals harness this opportunity–mobile and web-based cognitive assessment and training methods, wearables, brain stimulation, car-based sensors, and more–to better monitor and enhance brain health, and to improve work and life?
"It is exciting to imagine the possibilities at the intersection of brain health, digital health, and pervasive neurotechnology," says Alvaro Fernandez, CEO of SharpBrains and Summit's producer. "We are proud to offer this unique virtual and global forum to help the field move forward."
A few examples of the rich discussions to take place at the 2015 SharpBrains Virtual Summit:

How to harness neuroplasticity and digital tools to enhance work and life
How to measure and improve brain-based outcomes that matter in health care
Workshop: Best practices to navigate and implement the emerging brain health toolkit
At the frontier of Big Data and Brain Health
Beyond the US college student's brain: A survey of priorities across geography and age
Lessons learned in bringing innovative solutions to market
Under what conditions does brain training work?
Innovative partnerships to improve health and life at scale
The Speaker Roster includes:

Chris Berka, CEO and Co-Founder of Advanced Brain Monitoring
Dr. Douglas Ziedonis, Chair of the Department of Psychiatry at the University of Massachusetts Medical School
Dr. Glenn Morrison, Director of Clinical Trials at Lumosity
Dr. Olivier Oullier, Head of Global Health Strategy at the World Economic Forum
Dr. Randy McIntosh, Director of Baycrest's Rotman Research Institute
Dr. Ruth Wolever, Chief Science Officer at eMindful
J. Peter Kissinger, President of the AAA Foundation for Traffic Safety
Dr. Peter Whitehouse, Professor of Neurology at Case Western Reserve University
Kate Sullivan, Director of the Brain Fitness Center at Walter Reed National Military Medical Center
Dr Tej Tadi, Founder and CEO of MindMaze
Summit Sponsors include: The AAA Foundation for Traffic Safety, The Alzheimer's Research and Prevention Foundation (ARPF), The Arrowsmith Program, Baycrest, Cognifit, Digital Artefacts, Lumosity, Peak, Rosetta Stone, and Posit Science.
About SharpBrains:
SharpBrains is an independent think tank tracking health and well-being applications of brain science, with special emphasis on non-invasive neurotechnology and the growing needs of an aging population. The company maintains a biannual state-of-the market report series, produces an annual global and virtual professional conference, and maintains a consumer-facing guide, The SharpBrains Guide to Brain Fitness. SharpBrains.com, the company's educational blog, is one of the most popular brain blogs, full of information and brain teasers for adults of any age.