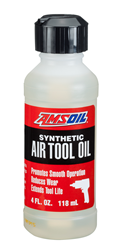 (PRWEB) November 02, 2015
AMSOIL Introduces New Synthetic Air Tool Oil
AMSOIL Synthetic Air Tool Oil is specially formulated to provide exceptional lubricity for pneumatic equipment commonly used by automotive enthusiasts, mechanics and craftsmen. It promotes equipment longevity, smooth operation, and reduced wear for a variety of common air tools, including grinders, impact wrenches, ratchet wrenches, chisels, drills, sanders, hammers and nail guns. It effectively lubricates rotary and piston-type air tool bearings and motors, while managing moisture and conditioning rubber and plastic seals & O-rings.
AMSOIL Synthetic Air Tool Oil helps prevent corrosion and deposits while reducing wear and extending tool life. It allows air tools to run cleanly and reliably for years, even generations. Convenient packaging design allows for easy dispensing of products. AMSOIL Synthetic Air Tool Oil offers equipment owners premium protection for lasting performance.
AMSOIL has been the recognized leader in synthetic lubrication since 1972. For more information about AMSOIL synthetic lubricants and performance products contact your nearest AMSOIL distributor, or call AMSOIL at (715) 392-7101 or 1-800-777-8491. AMSOIL INC., AMSOIL Building, Superior, WI 54880. http://www.amsoil.com
News Contact:
Ed Newman
715-392-7101
enewman(at)amsoil(dot)com
High-res image available upon request.