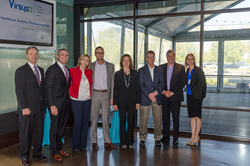 I thrive on connecting people, helping them find solutions
Nashville, TN (PRWEB) November 04, 2015
Fast-growing technology consultancy Virsys12 continues to make moves that signal its rising position in healthcare technology, including events, hires and a location change. On October 15th, Virsys12 hosted its 2nd Annual Nashville Healthcare Technology Forum, featuring an elite panel of local healthcare leaders along with senior executives from Salesforce's San Francisco headquarters, all sharing perspectives on analytics with the capacity crowd.
Themed "Healthcare Analytics the Salesforce Way," the Virsys12 Forum kicked off with an overview of the Salesforce Wave Analytics solution, presented by Darren Genstil, Salesforce VP, Commercial Sales, and Account Executive Britt Howard, Salesforce Healthcare and Life Sciences. Perception Health CEO and digital healthcare pioneer J. Tod Fetherling moderated an elite panel of healthcare executives discussing opportunities for change with faster, more accurate and predictive analytics.
The panel included MissionPoint HealthPartners Vice President of Business Development Michael Gardner, American HomePatient Chief Executive Officer Mark L. Lamp, Change Healthcare Vice President of Engagement Tiffany Pack, and AmSurg Vice President and CIO Eric Thrailkill. Thrailkill ended the program with a live demo of AmSurg's customized analytics package using the Salesforce Wave analytics application. See a full recap of the Nashville Healthcare Technology Forum here.
Today Virsys12, which provides healthcare technology solutions nationwide, announced the hire of healthcare business development executive Russell McBryde, joining as Director of Business Development. McBryde's experience includes senior sales positions with Alliance Oncology, Blue Sky MD, GlaxoSmithKline and Bayer. A speaker, mentor and member of Leadership Healthcare, he has received multiple recognitions for his sales successes.
"I thrive on connecting with people, helping them find solutions to their problems," says McBryde about the decision to come on board. "That really fits well with Virsys12's mission and culture. And Salesforce, with its relationship-based platform, is an incredibly robust tool to offer as healthcare transitions from volume to value payments."
McBryde's position expands Virsys12's business development efforts as the firm is on pace for its third triple-digit growth year. In 2014, Virsys12 released V12 ACO, an application that provides an operational platform for Accountable Care Organizations, now in use with twelve ACOs and growing.
"Russell understands healthcare and where it is going," says CEO and founder Tammy Hawes. "Because of his diverse experience, there is no ramp-up as he works with providers, health systems or payers to quickly identify their need and determine how Virsys12 can build a bridge to success with the right technology solution. We're pleased to gain his expertise for our growing healthcare work, especially as systems scale up with V12 ACO."
Scaling up at Virsys12 has meant multiple hires and new positions at the firm in 2015, leading to the move to new, larger offices. As of November 2, the company's headquarters are located at CityPark Four, 278 Franklin Road, Suite 350, Brentwood, TN 37027. The phone number remains (615) 800-6768.
Virsys12 continues to build staff as the demand for its certified Salesforce Silver Consulting Partner services grows. Hawes encourages candidates who feel they're a good fit for the Virsys12 culture to contact careers[at]virys12[dot]com.
This fall The Nashville Area Chamber of Commerce and the Nashville Entrepreneur Center jointly recognized Virsys12 as a 2015 NEXT Award Finalist, Technology Growth. The firm was a 2013 NEXT Award Winner for Technology Start-Up and a 2014 Finalist for Technology Growth. For the second year, Virsys12 CEO and Founder Tammy Hawes is a Finalist for the "Entrepreneur of the Year" Award. The NEXT Awards will be presented November 17th. Virsys12 was recently named a Best Place to Work 2015 and received a 2015 Best in Business Award by the Nashville Business Journal.
About Virsys12
Virsys12 is Tennessee's largest certified Salesforce Consulting Partner. We focus on healthcare and serve clients nationwide. Our award-winning team maintains top customer satisfaction ratings and excels in lean business process...guaranteed. Virsys12 brings your team a winning track record for technology services and proprietary applications for health systems, provider networks, healthcare services companies and ancillary providers. Visit: virsys12.com.