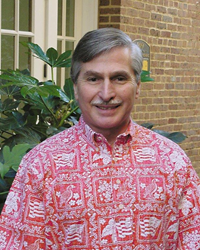 Fort Worth, Texas (PRWEB) November 03, 2015
The Botanical Research Institute of Texas (BRIT®) will present its International Award of Excellence in Conservation to Dr. S. H. Sohmer, the Institute's first executive director and its current director emeritus, for his contributions in the field of botany over the whole of his career and in particular his 21 years of service as head of BRIT. The award will be given on Wednesday, December 9, 2015, during a dinner at The Worthington Hotel in Fort Worth, Texas. Dr. Sohmer is the 21st recipient of the award.
Dr. Sohmer joined BRIT in 1993 as its first executive director. Under his leadership the organization grew from a staff of three—housed in a 12,000-square foot warehouse in downtown Fort Worth with about 400,000 dried plant specimens and a botanical and horticultural library of some 50,000 titles—to an organization with a staff of 30, housed in an energy efficient and sustainable building adjacent to the Fort Worth Botanical Garden. BRIT is currently the eleventh largest herbarium in the United States, possessing over 1.1 million specimens and with over 150,000 titles in its library. It is home to major education and research programs that are global in their reach and vision.
"Sy has distinguished himself in his scientific field of botany, like few others," said Harry Bartel, BRIT's chairman of the board of directors. "He has explored places like Papua, New Guinea, named new plant species, taught university students, and closer to home, created relationships with individuals, families, and business that have helped provide the funding for a leading botanical institute."
Prior to becoming BRIT's executive director, from 1990 to 1993 he was the Senior Biodiversity Advisor for the Agency for International Development. He managed the Conservation of Biological Diversity Project through which he supported a number of initiatives, such as the Biodiversity Support Program (a consortium of the World Wildlife Fund, the Nature Conservancy and the World Resources Institute), and interagency programs, such as the A.I.D./NSF (National Science Foundation) collaborative program in biodiversity, as well as the A.I.D./NSF/NIH program called the International Biodiversity Conservation Group Initiative.
Dr. Sohmer was Assistant Director for Research and Chairman of the Botany Department of the Bernice P. Bishop Museum in Honolulu from 1980 to 1990. He catalyzed a number of major programs, including the Flora of the Philippines Project, research efforts and initiatives in Papua New Guinea (where had served as a Forest Officer earlier for the PNG government). He initiated and led the National Geographic Society-supported Hunstein River Expedition in the East Sepik Province of Papua New Guinea in 1989 (which was covered in an article in National Geographic), organized the New Caledonia Terrestrial Biodiversity Task Force of the Pacific Science Association in 1990, and conceptualized and organized the Marquesas Expedition funded by Hermes Inc. during 1988 and 1989. The Flora of Hawaii Project, that Sohmer catalyzed and for which he acquired the requisite funding, culminated in the publication of the Manual of the Flowering Plants of Hawai'i in 1990, which was recognized as the world's best botanical publication of its kind in the 20th Century. Sohmer and his coauthors received the Engler Medal in Silver for this work at the 1993 International Botanical Congress; he was one of only 7 botanists at the time ever to have received this honor.
Dr. Sohmer was with the University of Wisconsin-La Crosse, Department of Biology from 1967 to 1980. During this time he created the University's Herbarium, which became third largest herbarium in the state of Wisconsin, and served, while on academic leaves of absence from that institution, with the Smithsonian Institution's Flora of Ceylon Project (1973) while he was a Postdoctoral Research Fellow. He also served as a Staff Associate in charge of the Tropical Biology Initiative at the National Science Foundation (1977-78), and as Forest Botanist with the then Office of Forests, Department of Primary Industry, Papua New Guinea, where he was charged with training Papua New Guineans in botanical research and collected widely in that country (1979).
He was the Chairman of the Botany Committee of the Pacific Science Association for 13 years, played a leading role in organizing the science programs of three Pacific Science Congresses, and serves as an officer or advisor for a number of other organizations, such as Treasurer for the Society for Economic Botany. He was given the Freedom of the City of London in 2006 and was admitted into the Livery of the Worshipful Company of Gardeners in 2007, and is a Fellow of the Linnean Soociety of London. He has published or edited some 80 articles and books, organized over 20 major symposia and workshops, and given numerous papers and talks.
Dr. Sohmer is currently Research Associate at the Smithsonian Institution's National Museum of Natural History, and Special Advisor to the Principal of Capel Manor College, London.
His educational background includes a Bachelor of Science degree from the City College of New York, a Master of Science degree from the University of Tennessee, and a doctorate from the University of Hawaii.
About the international Award of Excellence in Conservation
Created in 1995, the International Award of Excellence in Conservation is presented to honor individuals and organizations that exemplify the ideals expressed in BRIT's mission. Recent honorees include: tropical biologist and environmentalist Dr. Thomas Lovejoy; the originator of U.S. Green Building Council's LEED sustainability standards, Rob Watson; CNN founder, entrepreneur, and environmentalist, Ted Turner; Brazilian rancher and conservationist John Cain Carter; biologist Edward O. Wilson, Ph.D.; botanist and author Peter H. Raven, Ph.D.; renowned chimpanzee researcher Jane Goodall; and wildflower advocate Mrs. Lyndon Baines (Lady Bird) Johnson.