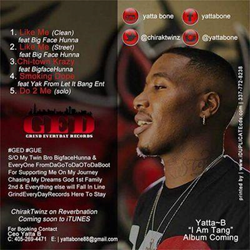 Chicago, IL (PRWEB) November 02, 2015
Today Coast 2 Coast Mixtapes announces the release of "Like Me", the latest music video by Chicago artist CEO Yatta-B, which features fellow recording artist Big Face Hunna. The video can currently be viewed at the Coast 2 Coast Mixtapes website.
Yatta-B is currently seeking press opportunities, interviews, features, and more. He can be reached through his official Facebook page.
About CEO Yatta-B: CEO Yatta-B is a Hip-Hop artist coming out of the southside of Chicago. He's been making music since the age of 12. Growing up he would listen to Twista, R. Kelly, Do or Die, Bone Thugs N Harmony, 2Pac, Da Brat, and Kris Kross to name a few. In 2002, he moved with his family to Oklahoma and chose to stay and take his music to the next level. After a few years of being in and out of jail, in 2010 he decided to get his life together and go to school. He received a Welding License from Meridian Tech in Stillwater, OK. He went on to work for the next few years to support his family, while simultaneously starting his own record label (Grind Everyday Records). After his identical twin brother, BigFace Hunna, got out of Jail in 2014, he decided to further his dream by performing their music all throughout Oklahoma, Texas, and Colorado. His first recorded project was a Chirak Twinz mixtape, "From Da Go To Da O", which told his story from Chicago to Oklahoma. He shot a music video for the mixtape entitled, "Show You How to Work". He is also finishing up three other mixtapes as well "G.E.D Boyz", "From Da Go To Da Boot", "From Da Go To Da O 2" and also his solo project "Yatta-B I Am Tang". He will releasing his solo album at the end of this year as well as the Chirak Twinz Mixtape this Fall. For more info on CEO Yatta-B visit his official Soundcloud page.
About Coast 2 Coast Mixtapes:
Coast 2 Coast Mixtapes are the most widely distributed mixtapes in the world, with over 100 million downloads/plays generated by over 300 volumes officially hosted by major artists. Coast 2 Coast has a solid reach in the new music industry with a digital magazine, DJ coalition, industry tips blog, yearly convention, and more. Coast 2 Coast Mixtapes represents a unique opportunity for artists of all urban genres, from major to indie. For more information, visit http://www.coast2coastmixtapes.com.