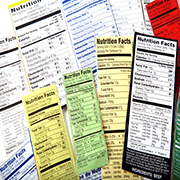 Spreading awareness regarding the benefits of gluten free diets through custom product labels can help to improve the brand image
Denver, CO. (PRWEB) November 03, 2015
The Importance of Accurate Food Labeling
Consumer behavior regarding food-purchasing decisions have evolved immensely of late, and one of the most prominent drivers of these changes relates to gluten in diets. November is Gluten-Free Diet Awareness Month, and food manufacturers may contribute to this event with the use of specialized labels. Gluten allergy labels work to ensure all consumers understand exactly what is included in the products, and will be especially helpful for individuals who have Celiac disease.
By placing non-gluten labels on products, food industry players can also target a niche consumer market in the process. Considering the event is set to begin soon, the time is now to get on top of these projects. Designers, marketers and others should be involved at virtually every stage of these endeavors.
Capitalizing on the Event
With a growing population of individuals avoiding gluten due to allergies or nutritional reasons, business leaders will be doing themselves a big favor by capitalizing on this awareness event.
"First and foremost, companies need to ensure their food labels are accurate to avoid major issues with regulators and the consumer market," Lightning Labels' Director of Business Development AnneMarie Campbell explained. "Additionally, spreading awareness regarding the benefits of gluten-free diets through custom product labels can help improve the brand image significantly and align sales models with current trends in the marketplace."
Non-Gluten food labels should always be included on products that do not have relevant ingredients, while indications the items do contain these components should be an even higher priority. However, companies that want to go beyond the call of duty in these efforts and capitalize on November's awareness month can leverage custom gluten intolerance labels to stand out from the crowd.
Gaining Momentum for 2016
November is one of the biggest months for food manufacturers, and progressive labeling strategies can fuel revenues and brand stature going into the New Year. Custom labels can be a benefit to any marketing or product management strategy given the fact they will separate one brand from another, regardless of how similar each company's items might be.
Taking advantage of major events such as Gluten-Free Diet Awareness Month can go a long way toward not only improving the average company's bottom line, but also aligning the firm with major campaigns. For example, participating in this particular event will show consumers the business is committed to providing healthy items and accurate labeling, as well as spreading awareness of the dangers of consuming gluten in certain situations.
With custom labels that relate to the event, food manufacturers, retailers and others will be in the driver's seat going into 2016.
About Lightning Labels:
Lightning Labels uses state-of-the-art printing technology to provide affordable, full-color custom labels and custom stickers of all shapes and sizes. From small orders for individuals to the bulk needs of big businesses, Lightning Labels is equipped to handle and fulfill custom label and sticker projects of all types. Best of all, like the name implies, Lightning Labels provides a quick turnaround for every customer's labeling needs. Uses for Lightning Labels' custom product labels and custom stickers include food packaging and organic food labels, wine and beverage labels, bath and body labels, and nutraceutical products, such as vitamins, essentials oils, and herbal remedies, as well as event stickers, adhesive window stickers and more. Lightning Labels strongly supports the development of environmentally friendly printing materials and carries EarthFirst PLA, a new kind of green label material made from corn instead of petroleum. While operating as a high-tech printer, Lightning Labels prides itself on its personalized customer service. Lightning Labels provides one stop shopping for all of your custom label needs. For more information and to place orders online, visit LightningLabels.com. For the latest in packaging news and labeling promotional offers, find Lightning Labels on Twitter (@LightningLabels), Facebook, Pinterest, Google and LinkedIn.