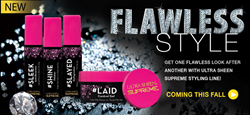 "We recognize that women want to take charge of their style and understand that it isn't always easy to achieve manageable hair, especially with hectic schedules, unpredictable weather, and limited resources. Ultra Sheen Supreme solves their hair woes."
New York, NY (PRWEB) November 02, 2015
For most young women, fun and confident moments are best captured with a selfie. And what better way to take a selfie than to have sleek, polished and photo-ready hair? Legendary hair care brand Ultra Sheen Supreme, trusted by consumers for over 40 years, introduces a new styling line specifically targeting beauty-conscious millennials, offering them a luxury haircare experience at a drugstore price.
Driven by social media, celebrities and runway looks, hair is increasingly becoming a key fashion accessory and an integral part of today's modern look. Women view their hair as the solution to compliment an outfit or as a fun way to incorporate their personal style and make a statement. To respond to consumer preferences for tailored products Ultra Sheen Supreme styling was customized to produce the best results for women of color with relaxed, natural or transitioning hair.
The styling line was formulated with proprietary ingredients to deliver unparalleled results and includes the most powerful advanced moisturizing products currently on the market. Each product contains an exceptional fusion of jojoba, castor and cocoa oils, aloe vera, mango and shea butter; all of which aid in reducing breakage, smoothing cuticles and soothing frizz, guaranteed to deliver flawless shine. In addition to their superior quality, all of Ultra Sheen Supreme's products are also gorgeously packaged.
The collection includes #Sleek: a keratin based anti-reversion serum that manages frizz resists humidity and protects tresses from heat damage. #Slayed: the ideal styling lotion to take hair from highly textured to sleek and straight. #Shine: an intense moisturizing polisher coupled with mango & shea butter will ensure hair is gleaming and glossy and #Laid: a conditioning control gel that tames pesky flyaways, define twists and adds shine
Each Ultra Sheen Supreme styling product has a hashtag, which will be used on several social media platforms, including Instagram, Twitter, and Facebook. As customers are encouraged to contribute their flawless looks to the #TeamSupreme community and visit the website, http://www.ultrasheensupreme.com regularly to receive and share information about hairstyling, product how-tos, upcoming events, and contests. This combination of high-quality merchandise and a unique design aesthetic provide the perfect social media post opportunity for their enthusiastic millennial client base.
"We recognize that millennial women want to take charge of their style and understand that it isn't always easy to achieve smooth, and manageable hair, especially with hectic schedules, unpredictable weather, and limited resources," says Kimberly Hairston, Chief Marketing Officer. Our affordable and travel ready styling line will help young women look and feel their best whether at work or on the go."
Ultra Sheen styling products can be used in conjunction or separately to ensure flawless finish. Each product retails for $2.99 USD and will be available at mass market stores and beauty supplies nationwide. For more information or to purchase online, please visit: http://www.ultrasheensupreme.com and check out the behind the scenes video at https://www.youtube.com/watch?v=GtRWK1pXw-I
######