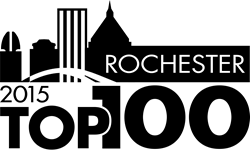 Helping to fuel the tremendous growth at D4 is the continued success of our managed services offerings, adding prestigious AMLAW200 Firms and Fortune 100 companies to our customer mix
Rochester, NY (PRWEB) November 02, 2015
D4, LLC, a national leader in eDiscovery managed services, litigation support, computer forensics and deposition solutions, announced today that the company has been recognized as one of Rochester's Top 100 for 2015, ranking 35th on the list. The Rochester Top 100 is an annual program by the Rochester Business Alliance and KPMG, LLP, which ranks the fastest-growing privately held companies in upstate New York.
"We are honored to be included on the Rochester Top 100 list for six consecutive years," said John Holland, Founder and CEO of D4. "Nothing speaks more clearly to the quality of our people and our products than the amazing growth we have experienced over the last few years. Being honored for the sixth year in a row stands as an indication that we are doing the right things to maintain our customers and build our business for the long term. The entire D4 family of employees helped make this possible."
The Rochester Top 100 is a program of the RBA and KPMG. Since 1988, they have ranked the area's private companies based on dollar and percentage revenue increases over the past three fiscal years.
"Helping to fuel the tremendous growth at D4 is the continued success of our managed services offerings, adding prestigious AMLAW200 Firms and Fortune 100 companies to our customer mix", said Peter Coons, SVP and Co-Founder of D4. "The managed services offerings are designed to minimize fixed investments and avoid technology obsolescence for our customers, while being highly adaptable as needs change. From the small and mighty law firm to the world's largest corporations, creating tailored managed service solutions is where D4 excels."
About D4, LLC
D4 is a leading national provider of managed data and discovery services to law firms and corporations. D4 was one of the first providers to offer an eDiscovery Managed Services solution, which launched in 2011. D4 has been instrumental in helping customers realize up to a 70% cost reduction over previous eDiscovery solutions. The company's state-of-the-art data center operations in Rochester are complemented by electronic discovery and litigation support offices throughout the country. D4 has been recognized by Inc. Magazine as one of the fastest-growing private companies in the US for five consecutive years. Visit http://www.d4discovery.com for more information.