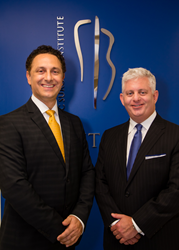 (PRWEB) November 02, 2015
Dr. George Bitar, Medical Director and founder of the Bitar Cosmetic Surgery Institute, announced today that Harvard-Trained Board Certified Plastic Surgeon Dr. Larry H. Lickstein has joined the Northern Virginia Practice. Dr. Lickstein brings incomparable knowledge and over 15 years of experience in aesthetics to the practice.
"There are few surgeons with the academic training and surgical skills Dr. Lickstein has attained. I am also incredibly impressed by his dedication and commitment to providing excellent patient care. These are the qualities that I have built this practice on and which make Dr. Lickstein a perfect fit for the Bitar Cosmetic Surgery Institute," said Dr. George Bitar.
Dr. Lickstein was most recently Plastic Surgeon and Executive Vice President at a multi-specialty private practice in Baltimore, Maryland. A Florida native, Dr. Lickstein was with the Department of Plastic Surgery at the Cleveland Clinic in Naples, Florida, one of the most recognized and prestigious clinics in the nation. Dr. Lickstein was recognized as a "Top Doc" by both Baltimore Magazine and Gulf Shores Life Magazine.
An honors graduate of Princeton University and New York University School of Medicine, Dr. Lickstein completed his surgical residency at Harvard Medical School, which culminated in being named chief resident in the Department of Surgery. He received his fellowship training at the University of Pittsburgh, one of the oldest and largest academic plastic surgery departments in the country.
Dr. Lickstein's impeccable reputation was built on a comprehensive approach to rejuvenation of the face and body. He applies an artistic eye and surgical precision to facial surgery, including facelifts, necklifts, and eyebrow lifts. Other surgical specialties for the body include post bariatric body contouring and mommy makeovers. Dr. Lickstein also performs laser treatments and injectables, such as Botox and fillers, to achieve beautiful and natural results.
Dr. Lickstein was named "Top Doc" by US News and World Reports/ Castle Connolly Medical Ltd. for 10 consecutive years from 2004 to 2014. He is a diplomat for the American Board of Plastic Surgery, and a member of the prestigious American Society of Plastic Surgeons, the American Society for Aesthetic Plastic Surgery, and the American College of Surgeons. He has authored many journal articles and has made presentations to local and regional groups throughout his career. He has been asked to serve as a lecturer and instructor for medical companies, including Zeltiq and Acelity.
To schedule an appointment with Dr. Lickstein, please call the Bitar Cosmetic Surgery Institute office at 703-206-0506 or visit the Institute's website at http://www.BitarInstitute.com.
About the Bitar Cosmetic Surgery Institute
Established in 2002, The Bitar Cosmetic Surgery Institute serves the Washington DC Metropolitan Area offering a comprehensive menu of surgical procedures and non- surgical rejuvenation treatments for face and body. Founder and medical director, Dr. Bitar is known worldwide as an innovator in plastic surgery—having performed over 10,000 body and facial procedures. The board certified and award-winning plastic surgeon serves both a sophisticated group of national and international patients. Dr. Bitar has been featured in numerous publications and television shows. To learn more about the Bitar Cosmetic Surgery Institute, visit http://www.BitarInstitute.com.
Media Contact: Judi Campbell
judicampbell(at)bitarinstitute.com
Marketing Director
703-206-0506