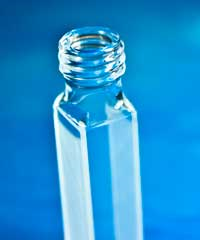 Brooklyn, NY (PRWEB) November 04, 2015
FireflySci Inc. is the latest edition to the world of glass cuvette manufacturing. The founders of the company, Simcha Woitovich and Gordon Cinco have over 20 years of cuvette manufacturing experience. While they carry a line of standard spectrophotometer cuvettes, they also continue to bring fresh new product ideas to the spectroscopy industry. The latest product that they have released is their Type 41FLG10 fluorometer screw cap cuvette.
In the past, glass cuvettes were supplied with PTFE covers which provided a weak seal and were not airtight. Next came cuvettes with PTFE stoppers. The stoppers were much better at keeping a sample from evaporating from a cuvette but they were not perfect. Now, thanks to a new development in fire fusing, FireflySci is able to attach glass threading to their standard 10 mm cuvettes making the best cuvette for airtight work that can be found on the market.
FireflySci's Type 41FLG10 is made with the highest grade Optical Glass. This material has a transmission range of 340-2,500 nm and is designed specifically for the visible (VIS) range. All four sides are polished allowing this glass cuvette to be used in either a spectrophotometer or a fluorometer.
Included with the Type 41FLG10 cuvettes is two types of screw caps. One screw cap is a solid cap that is used to get the best seal possible. The second type of screw cap is a septum cap which includes a PTFE/silicone septa. The septa cap allows a user to inject a sample directly into the glass cuvette without losing the airtight seal.
The Type 41FLG cuvettes are available in four different lightpath; 5 mm, 10 mm, 50 mm and 100 mm. Custom lightpaths are also available and these cuvettes can be customized to fit any specifications. FireflySci has chosen a standard 13-425 cap which is very easy to find. Additional caps can be purchased directly from the FireflySci webstore as well.
The application that the Type 41FLG shines in is anaerobic work. Using the septa screw cap a researcher can hook up an inlet and outlet to inject a sample and de-gas the cuvette without having to touch the glass cuvette. The more hands-off people are when running these experiments, the better the results.
The guys at FireflySci are really pumped about these new glass cuvettes. As 2015 winds down, they are ramping up for bringing more innovative products to their customers in 2016.
For more information visit http://www.fireflysci.com.