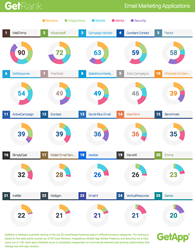 The ranking is based on 5 data points, each worth 20 points, for a total possible score of 100. They include user reviews, integrations, mobile availability, media presence, and security, and are collected using own data and third-party sources
(PRWEB) November 03, 2015
GetApp, the largest cloud­-based business apps marketplace, has released its updated Q3 GetRank of the t​op 25 email marketing solutions; Mailchimp stayed on top with a whopping 90 out of 100 points, while Infusionsoft and Campaign Monitor trailed behind in 2nd and 3rd place.
The ranking is based on 5 data points, each worth 20 points, for a total possible score of 100. They include user reviews, integrations, mobile availability, media presence, and security, and are collected using data from GetApp and other third-party sources. See more about it in our video guide here.
Providing small and medium businesses with a first look at some of the best email marketing solutions available on the market, the ranking and it's accompanying report, Marketing in the Cloud, aim to provide some insight into the key trends and considerations for this software in Q3 2015.
When it comes to email marketing, responsive design is one of the key factors for choosing an email marketing software, especially considering that according to one study by MarketingLand, up to 66 percent of emails are opened on a mobile device
Says report contributor Rand Fishkin, founder and former CEO of Moz, "I think [one of] mobile's biggest changes to marketing ha[s] been requiring web experiences to provide a great user experience on a small screen without a keyboard."
When it comes to the ranking, user-generated reviews and integrations are calculated using data listed on GetApp, while security scores come from vendor responses to a security survey based on the Cloud Security Alliance Self-­Assessment Form. Mobile platform data is captured from Google Play and the Apple App Store, while media scores are calculated using the number of Facebook followers and Twitter fans a vendor has.
Click through to access t​he Q3 GetRank for Email Marketing software and download a copy of GetApp's Q3 research report, Marketing in the Cloud: Key Trends for 2015 on GetApp.
More about GetApp: GetApp, a Gartner company, is the leading premium business app discovery platform on the web. Headquartered in Barcelona (Spain), GetApp serves as a platform for user-generated and editorial reviews of software and apps for businesses.