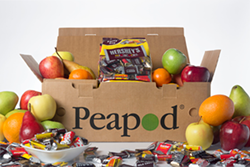 Chicago, IL (PRWEB) November 04, 2015
For office managers, stocking snacks in the break room just got a bit sweeter. Today, Peapod, the nation's leading online grocer and The Hershey Company joined forces to launch the Fruit & Indulgence Box, a delicious care package filled with wholesome fresh fruit and melt-in-your-mouth Hershey's chocolate to satisfy employees' collective sweet tooth. The Fruit & Indulgence Box, the first collaboration between Peapod and The Hershey Company, is now available for office delivery, home delivery or Pick-up in Chicagoland, Milwaukee and Indianapolis areas served by Peapod.
"Peapod customers are busy people, especially during the work day, and many rely on the office break room to provide an afternoon pick-me-up. Based on the incredible success of our Best of the Season Fruit Box, we know that employees are clamoring for healthy foods in the workplace. But, research also shows that employees love options – including a little chocolate indulgence! Studying business purchases we saw a great opportunity to pair a popular snack with fresh, Peapod produce," said Tony Stallone, Peapod's VP of Fresh Markets. "That's why we've partnered with The Hershey Company to provide the Fruit & Indulgence Box. It delivers a convenient solution at a great value for a broad range of office appetites – whether it's ripe, fresh fruit or a piece of delicious Hershey's chocolate, everyone at work will find something to love in the Fruit & Indulgence Box."
The launch of the Fruit & Indulgence Box comes hot on the heels of a recent Peapod survey with ORC International on employee satisfaction in relation to workplace snack availability. According to the survey, 66 percent of employees who say their office is always stocked with food report being very happy on the job and 56 percent of office workers agree that they hit an afternoon slump without snacks to refuel their energy. And, it's not just any food: 83 percent of employees agree that having fresh snack options provide a huge perk.
"Our partnership with Peapod enables both of us to uncover opportunities in a grocery delivery business model, which is a high-growth shopping platform for the evolving shopper, and from an office snacking occasion standpoint, which is undeniably relevant in today's time-constrained workplace," said Denise Vivas, Director, eCommerce, The Hershey Company.
The Fruit & Indulgence box includes one party size bag (38.5-40oz.) of Hershey's chocolate and 24-28 pieces of fresh, seasonal fruit. Available to Peapod's customers in Chicagoland, Milwaukee and Indianapolis, the Fruit & Indulgence Box can be ordered online at http://www.peapod.com or via the newly redesigned mobile app for phone and tablet.
For more information, please visit http://www.peapod.com.
ABOUT PEAPOD
Peapod – an Ahold USA company – is the country's leading Internet grocer, serving 24 U.S. markets throughout Connecticut, Illinois, Indiana, Maryland, Massachusetts, New Hampshire, New Jersey, New York, Pennsylvania, Rhode Island, Virginia, Washington, D.C. and Wisconsin. Founded in 1989 as a smart shopping option for busy households, today Peapod has delivered more than 30 million grocery orders. Peapod strives to deliver convenience and value. Customers can order online or on Peapod's free mobile app for grocery home delivery or car-side service at one of many Pick-up locations. For more information on Peapod, call 1.800.5.PEAPOD (1.800.573.2763), e-mail or visit http://www.peapod.com.
ABOUT THE HERSHEY COMPANY
The Hershey Company, headquartered in Hershey, Pa., is a global confectionery leader known for bringing goodness to the world through its chocolate, sweets, mints and other great-tasting snacks. Hershey has approximately 22,000 employees around the world who work every day to deliver delicious, quality products. The company has more than 80 brands around the world that drive more than $7.4 billion in annual revenues, including such iconic brand names as Hershey, Reese's, Hershey's Kisses, Jolly Rancher, Ice Breakers and Brookside. Building on its core business, Hershey is expanding its portfolio to include a broader range of delicious snacks. The company remains focused on growing its presence in key international markets while continuing to extend its competitive advantage in North America.
At Hershey, goodness has always been about more than delicious products. For more than 120 years, Hershey has been committed to operating fairly, ethically and sustainably. Hershey founder, Milton Hershey, created the Milton Hershey School in 1909 and since then the company has focused on giving underserved children the skills and support they need to be successful. Today, the company continues this social purpose through 'Nourishing Minds,' a global initiative that provides basic nutrition to help children learn and grow. From neighborhoods across the United States to the streets of Shanghai and Mumbai and villages of West Africa, our goal is to nourish one million minds by 2020.
To learn more -
Visit: http://www.thehersheycompany.com